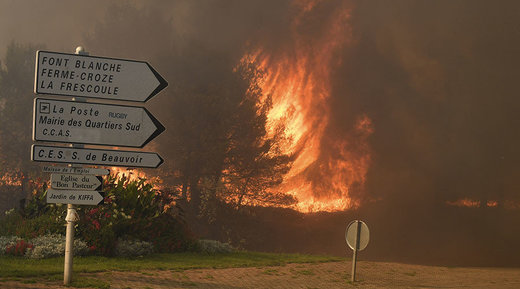 Several wildfires have affected areas near Marseille, with huge clouds of smoke covering the skies above the southern French port city.
The smoke from the blaze has reportedly caused numerous delays at Marseille airport, with planes being diverted to other sites.
Several separate "significant" fires have been raging on Wednesday in the southern France region of Bouches-du-Rhone, the most densely populated department of the Provence-Alpes-Cote d'Azur region, local media reported.
The flames are reportedly getting close to industrial areas near Marseille, with several roads being closed off in the area. The situation remains "tense" and poses a threat to businesses in the region, France's Midi Libre reported. Hundreds of people and dozens of vehicles have been deployed to fight the blaze.
Residents of several neighborhoods in the town of Vitrolles, some 30km (18 miles) north of Marseille, have been evacuated, radio Europe 1 reported.
Although some fires have been contained, another blaze in a pine forest is spreading, Europe 1 said, adding that the situation is worsened by strong winds.
Some 600 hectares have been engulfed in flames, local officials said.
In another department in southern France, Herault, four firefighters have reportedly been injured while battling the blaze, three of them seriously.