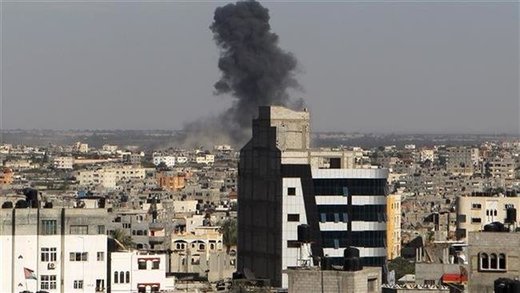 Israeli warplanes have launched several airstrikes on the Gaza Strip in yet another act of aggression against the besieged Palestinian coastal territory.
No casualties have yet been reported in the Saturday morning attacks that followed
reports of an alleged rocket launch from Gaza on a vacant kindergarten in the town of Sderot
in the occupied Palestinian territories.
The Israeli warplanes reportedly hit the Zeitoun district of Gaza City and a site belonging to the Palestinian resistance movement, Hamas.
The Israeli bombardment of Gaza came hours after Tel Aviv imposed a closure on the occupied West Bank city of al-Khalil (Hebron) and its surrounding areas following the killing of an Israeli man in a drive-by shooting there. Earlier on Friday, Israeli forces shot dead a 27-year-old Palestinian woman, identified as Sarah Tarayra, after she allegedly attempted to carry out a stabbing attack near the revered Muslim religious monument of the Ibrahimi Mosque in the city.
The Israeli military frequently bombs the Gaza Strip. The disproportionate force is always used in violation of international law, and civilians are often killed or injured.
In early July 2014, Israel waged a war on the Gaza Strip. The 50-day military aggression, which ended on August 26, 2014, killed nearly 2,200 Palestinians, including 577 children. Over 11,100 others - including 3,374 children, 2,088 women and 410 elderly people - were also wounded in the war. Israel continues to carry out attacks on the Palestinian strip from time to time.
Gaza has been blockaded since 2007, a situation that has caused a decline in the standard of living, unprecedented levels of unemployment, and unrelenting poverty.
The apartheid regime of Israel denies about 1.8 million people in Gaza their basic rights, such as freedom of movement, proper job, and adequate healthcare and education.