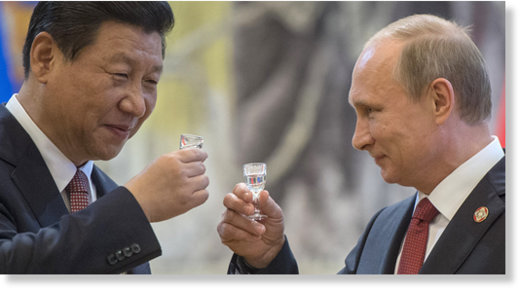 The upcoming visit of Russian President Vladimir Putin to China is of interest to the market because Moscow and Beijing are currently in talks over China's cooperation with the Eurasian Economic Union. But it is also very important in political terms.
While the commercial benefits of such integration are still unclear, it may give Moscow significant political dividends, observer Kenneth Rapoza wrote in an
article
for
Forbes
.
Following a large-scale economic forum in St. Petersburg and another extension of European sanctions, the Kremlin is once again turning to China.
Moscow is hoping to include Beijing into a trade relationship similar to Washington's Trans-Pacific Partnership, the article read.
Putin's visit to China will take place after the June 23-24 Shanghai Cooperation Organization Summit in Tashkent, Uzbekistan.
"The former Soviet nation [Uzbekistan] is mired in poverty and is more likely to turn towards the Chinese too, in hopes that Beijing's One Belt One Road initiative will lift it out of the 1900s," Rapoza wrote.
Market players are eager to learn whether there is clear agreement on a Russian proposal to include China into the "trade orbit" of the EEU.
The EEU is a five member trade union between a number of post-Soviet states, including Russia, Kazakhstan, Armenia, Kyrgyzstan, and Belarus.
China may be interested in closer integration with the union if Beijing can use it to export oversupply of coal, cars and steel to those markets, the author wrote.
Recently, Russia has been looking to "befriend" China. Over the last two years, Moscow and Beijing have signed a number of agreements, mainly on oil and gas.
Commenting on the upcoming visit, Russian Foreign Minister Sergei Lavrov said that it will give a powerful impulse to the strategic partnership between Russia and China.
"The Russian-Chinese partnership, the best ever, is an excellent example of the intergovernmental relations in 21 century," the minister said.
The Russian economy is still in crisis, and the recent rebound of oil prices has not done much to help improve the situation. In this context, Russia's pivot to the East is a good step, but it is many decades behind the US, Rapoza wrote.
"It comes at a time when China's economic growth is slowing, and persistent oversupply does not bode well for frontier nations that want China's money, but also want to develop their own manufacturing rather than import China's unwanted goods," the article read.
"For Putin, getting Xi Jinping on Russia's side is probably more political than economic. If China agrees to become an affiliate member of the EEU in some sort of trade arrangement, it will be seen as a positive from a long term, top down perspective," Rapoza suggested.
"Russia would like to present Sino-Russian relations as balancing or a bulwark against the West," Agnia Grigas, senior fellow at the Atlantic Council, told
Newsweek
.
She added that Russia needs building up ties with China for both pragmatic and political reasons.
Russia's pivot to China is a "big signal" to Europe, Lauren Goodrich, a senior Eurasia and Soviet Union specialist at the US think-tank Stratfor, said.
"Russia is looking for eastern partners and if it appears that Russia is moving close to China, it adds to the already shaky resolve on sanctions in Europe," Goodrich said.
China is one of Russia's most important partners. Over the last three years, Vladimir Putin and Chinese President Xi Jinping have met for 15 times. "Each meeting of heads of our states is an event on a global scale," Russian Ambassador to Beijing Andrey Denisov was quoted saying by RT.
Moscow has over 30 projects on the table, and the documents are currently being prepared.
"It is no secret that the final agreement on certain projects is sometimes achieved literally in the last few days, and sometimes even on the last day or in the final hours before the signing. It's too early to publish the list of documents for signing. Not because it is a big secret, but because negotiations are continuing," Denisov said.