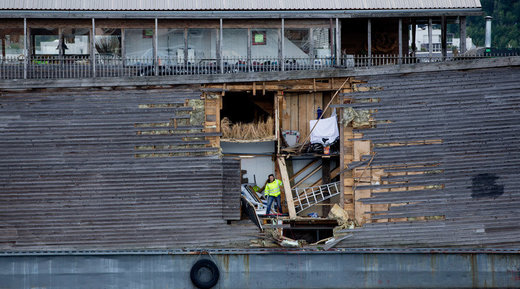 A full-size replica of Noah's Ark was severely damaged when it crashed into a Norwegian Coast Guard vessel as it was leaving the Oslo harbor.
The 70-meter-long (230-foot) ship was being towed out of the harbor Friday morning by tugboats when "several things went wrong" according to a statement from Ark of Noah.
While maneuvering out of the harbor, the ark crashed into a crane that was protruding from the coast vessel, taking out an entire side of the wooden exhibition ship and damaging the vessel also.
Video footage captured the crash as it happened from a distance, but pictures showing the aftermath reveal the full extent of the ship's damage.
Nobody was injured in the collusion but the ark, which acts as a museum, will be staying in the harbor until repair work can be carried out, although the statement added "we don't know how it will be fixed yet".
The ship was one of two arks built by Dutch carpenter Johan Huibers over a seven year period, after he dreamed of a flood in his hometown. Since then, according to
The New York Times
, more than a million people have visited the replicas to see domesticated animals like llamas, ponies and rabbits.