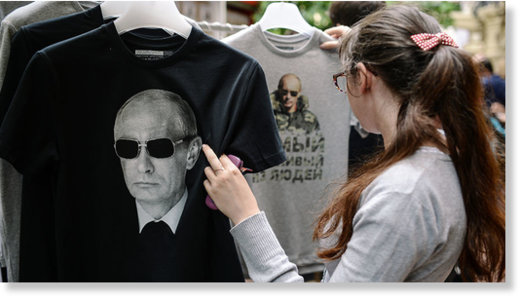 Over 80 percent of Russians approve of the work of their president, and the number of Vladimir Putin supporters is high even among members of opposition parties, according to the latest public opinion research.
The government-owned agency VTSIOM reported on Thursday that the share of Russians who said they are happy with Vladimir Putin's performance as president is 82 percent. Even more Russians - 84 percent - said they are ready to vote for Putin at the presidential elections.
According to the same research, 76 percent of members of Russia's Communist Party said they are satisfied with Putin as the leader of their country and 79 percent of Communists claimed they would give Putin their support at presidential polls.
Members of the Liberal Democratic party hold similar views, with 69 percent claiming general approval of Putin's current policies and 76 percent promising to vote for the incumbent in the next presidential polls.
The Foundation for Development of Civil Society - the NGO that ordered the poll - wrote in comments on the results that the "pro-Putin majority" in Russia currently has significant influence on various public activities and the potential for expansion.
"We can state today that our forecasts prove to be true, the pro-Putin majority is very stable, the president's rating is still very high and there are many of his supporters in all parliamentary parties as well as in many of those that have not made it to the lower house [the State Duma]," the head of the foundation, Konstantin Kostin, said in comments with Izvestia daily.
He added that the results of the poll demonstrate that the next convocation of the State Duma, which will be elected in September, would be largely pro-Putin.
"We witness extremely high demand from society for a strong leader who is capable of consolidating the nation in times when its statehood is at the establishing stage. This has happened in the history of many democracies," Kostin said.
Vladimir Putin's electoral and approval ratings have hit record highs during the current presidential term. In early March this year VTSIOM reported that the share of Russians who express willingness to vote for Putin in the nearest presidential polls was 74 percent - the largest in four years.
In late October 2015, Putin's approval rating hit a historic high of 89.9 percent, beating the previous high set in June 2015, when the average monthly rating was 89.1 percent.
In late June 2015, independent Russian pollster the Levada Center reported that according to its data, the share of Russians who are happy with Putin's work as president had reached 89 percent. Sixty-four percent think the current policies of the Russian authorities are correct - also the highest on record. The proportion of Russians who expressed dissatisfaction with Putin's work was 10 percent.