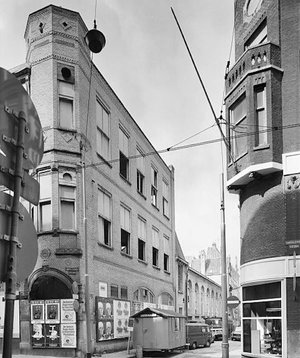 A number of important Dutch people were named in the Amsterdam court on Monday
, where witnesses are being questioned in a case surrounding
an extensive network of child sexual abuse and child prostitution in Amsterdam in the 1980's.
According to the first witness,
former mayor Ed van Thijn, former Minister Onno Rudding and Prince Claus were all involved in pedophile-prostitution to some extent
.
Koos van Woudenberg is the first of nine witnesses that will testify under oath this week. According to Van Woudenberg, he was abused in an Amsterdam apartment while he was still in primary school, according to
AD
reporter Koen Voskuil tweeting live from within the courtroom.
In that Amsterdam apartment, which belonged to now deceased professor
Ger van Roon
, sexual acts were committed with young boys, Van Woudenberg told the court. The witness stated that he saw former mayor Ed van Thijn,
top Justice official Joris Demmink
and former Minister Onno Rudding in the apartment, performing sexual acts with boys. Demmink was there almost every time, Van Thijn at least twice. Van Woudenberg had oral sex with Rudding. He also claims that he saw Prince Claus at a bar "in relation with young boys." Prince Claus was also in Van Roon's apartment.
The second witness to be questioned was Raphael Beth, a former employee of public health service GGD, back then GG&GD, in Amsterdam. The now 70 year old Beth worked as a field employee for the service from the late 80's. He had a good overview of the boys involved because they came to him with their problems. He also visited visited the six or seven youth-brothels in the city at least once a week, to talk to the owners and check on the boys.
According to Beth,
about 350 boys were working as child prostitutes in Amsterdam in the 80's and 90's
. He told the court that the boys recruited each other. Each of them had a list of names of men they could visit. According to him, most of the young prostitutes in the brothels were around 17 years old. But there were also 15 and 16 year olds, and a single 14 year old.
"Pedophile-prostitution was tolerated at the time",
Beth said to the court. According to him,
the GG&GD ignored his concerns about child prostitution
. The boys working in prostitution contracted many diseases and often learned to gamble and use cocaine in the circuit.
This case was initiated by now 43-year-old
Bart van Well
, who was a child prostitute in his youth. He still suffers from post-traumatic stress disorders and mood swings. He holds the Netherlands responsible for that because he believes the country did not do enough to stop child prostitution.
Other witnesses set to testify this week include former Justice Minister Ivo Opstelten and VVD parliamentarian Fred Teeven, who was a prosecutor at the time. Charles Maasdam, who owned a youth brothel in the capital for years, is also set to testify. Joris Demmink will be questioned at a later date.