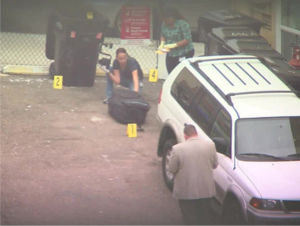 We're learning more about the case of a woman's body found stuffed in a suitcase.
As the Medical Examiner works Thursday on identifying who the person is, a local woman suspects it's her sister.
Cynthia Deridder says her sister was downtown Tuesday night traveling with a black suitcase.
"She was going through some things and that was the last time we spoke with her," she said.
A suitcase containing the remains of a woman was found next to a row of garbage cans behind a Core-Columbia hotel Wednesday afternoon.
A man who lives in the area made the gruesome discovery near the corner of Seventh and A streets about 11 a.m., according to San Diego police.
Patrol officers confirmed the death, then called in a homicide team.
"The victim's identity is unknown at this time,'' Lt. Ray Valentin said in the mid-afternoon.
Once detectives fully document the spot where the travel case was found, the county Medical Examiner's Office will take custody of the body for identification and autopsy purposes, police said.
Authorities are asking anyone with information to call crime-stoppers at
888-580-8477
.