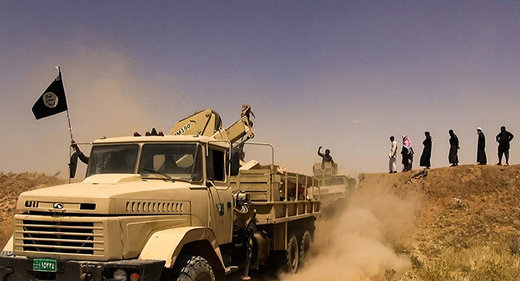 Passenger records handed over to the Guardian by Kurdish forces at Tel Abyad have Daesh stamp marks.
In what appears to be additional confirmation of Turkey's leadership knowledge of Daesh (also known as the Islamic State terrorist group), crossing Syria-Turkey borders without challenge,
Kurdish forces managed to seize a list of passengers crossing through Tel Abyad, a town in northern Syria located around 2 kilometers from the Turkish border.
Numerous Daesh-sponsored buses used to pass through the town Tel Abyad bordering with Turkey until June 2015 when
Kurdish forces
took control of the town.
For four months in a row since December 2014, passengers with registered ID numbers, names, and other personal data stamped by Daesh "department of immigration" and "department of transport" came to Tel Abyad from within Daesh-held territory.
The Guardian
obtained the documents containing 70 names of passengers from Redur Xelil, the Syrian Kurdish forces spokesman. The manifests say there were seven babies under two, 14 children aged three to twelve, seven teenagers and 42 adults.
If respecting international border control security, border control requires both countries to agree to how people may cross boundaries.
According to one passenger manifest, five men and one woman came from
Kairouan
, a Tunisian city notorious as the focal point of radicalism. The Tunisian officials claimed in October that 6,000 of its citizens left the country to fight for Daesh while making the country the biggest provider of foreign fighters heading for Syria.
Turkey's government has repeatedly stressed its inability to secure its 800-kilometers border with Syria. Turkish Prime Minister
Ahmet Davutoğlu
told journalists in January, during the time when people were actively passing through Tel Abyad, that Turkey wouldn't see a way to seal the border with Syria.
"We cannot put soldiers everywhere on the border. In any case, there isn't any state on the other side [of the frontier]." he said.
Mosul and Raqqa travel agencies suggested a formalized passage of people on the Syrian side of the border at some time in the past.
The de facto Daesh capital of Syria,
Raqqa
, located 65 kilometers south to Tel Abyad, and the Iraqi city of Daesh-held Mosul reportedly accepted buses until March 2015.
In October, Turkish President Tayyip Erdogan pledged "to do what is necessary" to stop Kurds from declaring autonomy in the border town of Tel Abyad.
International community has long pressed Turkey over its alleged ties with terrorists in Daesh as long as Erdogan was known to pursue a policy that contributes to the prosperity of terrorists' in and out ease the territory held by the group.
Columbia University academic and researcher David Phillips echoed Russian president Vladimir Putin who said that
Russia knows who benefits from oil smuggling in Turkey and who is recruiting new militants
while claiming that Turkey allegedly "knows the movements of all persons and can control the flow across the border (between Syria and Turkey) if it chooses".
He added that "a steady stream of vehicles, individuals, weapons, financing, oil going back and forth."
"It's not like people are putting on their hiking boots and crossing over rough terrain," he said. "There's an extensive surface transport network which is highly regulated and controlled... on both sides of the border."
The originality of the manifests has not been challenged, according to an expert on Daesh documents, academic researcher Aymenn al-Tamimi.
He said "The documents... coincide with other documents illustrating daily bus routes within Islamic State territory. Though private companies provide the actual transportation, the Islamic State bureaucracy is responsible for authorising and overseeing the routes."
Following the revelations, a top Turkish government authority told the Guardian that Turkey considered any Tunisian entering Daesh-controlled territory as a "foreign fighter". However, he wondered whether the passengers registered in the revealed manifests used the legal road crossing.