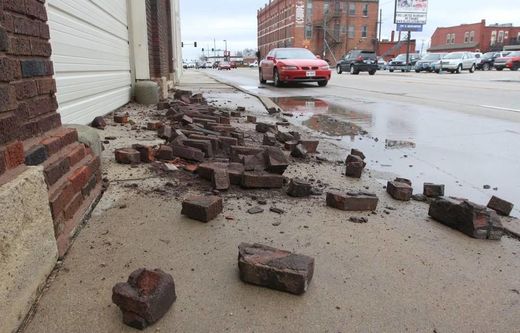 At least seven earthquakes rattled north-central Oklahoma on Monday, including one felt as far away as Iowa, prompting concern from residents and policymakers that the state isn't doing enough to curb the quakes that scientists have linked to oil and gas activity.
Oklahoma has become one of the most earthquake-prone areas in the world, with the
number of quakes of magnitude 3.0 or higher skyrocketing from a few dozen in 2012 to more than 720 so far this year.
Many of the earthquakes occur in swarms in areas where injection wells pump salty wastewater - a byproduct of oil and gas production - deep into the Earth.
"It lasted for several seconds, but it's hard to tell when you just wake up," resident Frankie Robbins said of the 4.7 temblor that hit before 4 a.m. on Monday about 16 miles from his home in Medford, which is about 80 miles south-southwest of Wichita.
The shaking was felt in Wichita as well.
Dozens of bricks fell from above the doorway to a 75-year-old building on Washington just south of Douglas early Monday, and the owners of the building say the earthquake may have caused or contributed to the damage.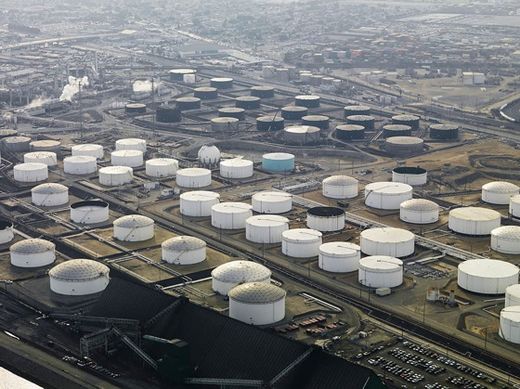 "We don't know positively that that's what caused it," said Ron Van Etten, the recorder Midian for the Midian Shrine Temple, which owns the building. "We just kind of think that was for sure a factor in it."
The organization will have structural engineers look at what caused the bricks to fall from the east wall of the building, Van Etten said.
"The way the earthquakes are going, it could be a possibility," he said.
Monday's quake was the latest in a series of November earthquakes felt by Kansans. Another magnitude-4.7 quake centered near Enid, Okla., rattled awake
Wichita residents on Nov. 19
.
In Oklahoma, Robbins said, Monday's quakes left a few pictures askew on his wall, and he noticed a door frame in his house is "tighter than it used to be." Although no major damage or injuries were reported, he said residents are growing increasingly uneasy about the frequency of the quakes.
"There's definitely a sense of concern for some people when they feel them in the middle of the night," Robbins said.
State regulators have taken steps to try to curb the number of quakes, working with disposal well operators to have them reduce the volume in disposal wells or shut them down entirely. But so far, the Oklahoma Corporation Commission's voluntary program has done little to curb the number of quakes.
Oklahoma state Rep. Cory Williams, a vocal critic of the state's response to the rise in seismic activity, praised the work done so far by the commission. But he said that, overall, the state's governor and legislature have done little to address the problem since a state-record, magnitude-5.6 quake in 2011 damaged 200 buildings and shook a college football stadium.
"The problem is we're being totally reactionary as opposed to proactive," said Williams, D-Stillwater.
"We wait for a seismic event, and then we react to it, which is an abysmal policy for handling something that can cause catastrophic damage to property and/or life."
Williams said the oil and gas lobby at the Oklahoma Capitol has kept lawmakers from taking any steps to regulate the industry. And under a bill pushed by the industry that Gov. Mary Fallin signed into law last year, cities and towns would no longer be able to regulate oil and gas operations within their boundaries. A similar bill was signed into law in Texas.
Oil and gas industry officials say they're working with regulators to come up with a solution to the earthquake problem that doesn't jeopardize an industry that is critical to Oklahoma's economy.
"If you just shut it down, it would be devastating," said Chad Warmington, president of the Oklahoma Oil and Gas Association. "The goal is to be able to reduce earthquakes and still be able to produce."
Contributing: Associated Press and Stan Finger of The Eagle