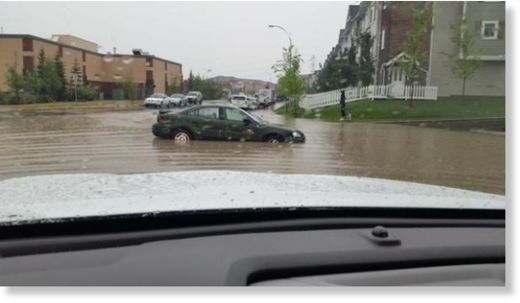 People in Calgary woke up with a bang early Sunday morning as a line of thunderstorms hovered over the city, bringing lightning, power outages and overland flooding in communities to the east.
As the storms moved eastward, severe thunderstorm warnings issued by Environment Canada remained in effect for Red Deer, Ponoka, Innisfail and Stettler by 3 p.m. MT. An earlier storm warning for Calgary was cancelled at 9:40 a.m. MT.
"Meteorologists are tracking a dangerous thunderstorm capable of producing up to penny size hail and flooding rain," the agency said on its website.
Thunderstorm watches — the agency's less urgent category of alert — were still in effect for much of the southeastern part of the province by late afternoon.
When the storm hit early Sunday morning it caused flash-flooding in parts of northeast Calgary, as well as Langdon and Chestermere east of the city.
The Alberta emergency public alert system tweeted a warning about overland flooding in Chestermere.
"While short, this was an intensely severe storm that brought an amount of water that overwhelmed our systems" Steve Bagley, Chetermere's director of emergency management, said in a release.
"We are working hard to assist residents and restore services as quickly as possible."
Officials said power had been restored to most parts of the city by 1:30 p.m. MT and that Chestermere Lake water levels were under control.
Langdon resident Andrew Kucy said it didn't take long for his basement to flood.
"When I went down there to check on the sump, it was basically full. I tried to get a Shop Vac, tried to get a vacuum to deal with that, but it came in so fast that I couldn't do anything," he said.
Environment Canada warned people not to drive through flooded roads.
"Watch for possible washouts near rivers, creeks and culverts. Persons in low lying areas or valleys should watch for rapidly rising water and be prepared to move to higher ground," the agency said.
"Lightning kills and injures Canadians every year. Remember, when thunder roars, go indoors," the weather agency added.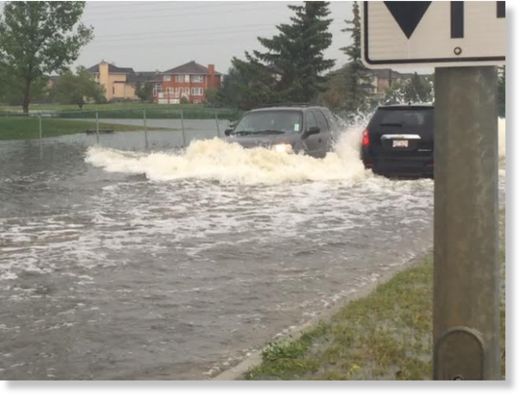 Flights briefly grounded
The severe weather also caused problems at Calgary International Airport. All flights were at one point grounded because of a lightning advisory, said spokeswoman Jody Moseley. The airport tweeted at 11:30 a.m. MT that the advisory had been lifted "and crews are working hard to get things moving."
Crews extinguished a minor roof fire at a house in Coral Springs in northeast Calgary that was struck by lightning at about 7:30 a.m. MT, according to one fire official.
The utility company Enmax reported numerous localized power outages around the city caused by the thunderstorm.
At one point as many as 7,000 customers were without power, mostly in neighbourhoods in northeast and southeast Calgary. By 3 p.m. MT power was restored in all communities, the Enmax website reported.
West of Calgary, a transformer fire knocked out power in Canmore, utility company Fortis Alberta said. It was expected power would be restored by 4 p.m. MT in the mountain town.