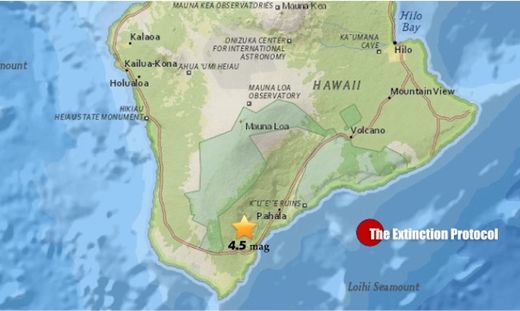 A pair of temblors rocked the Big Island early Saturday morning (May 9). At 2:17 a.m. a
3.1
magnitude quake struck the Hawaii Volcanoes National Park area while a second quake of
4.5
magnitude shook a minute later at 2:18 a.m. west of Pahala. The quakes were felt across the island.
Source:
Hawaii 24/7
No changes were detected in Kilauea Volcano's ongoing eruptions or any of the other active volcanoes on the Big Island after a
4.5
magnitude earthquake was reported north of Naalehu Saturday morning, the Hawaiian Volcano Observatory said. The quake was reported at 2:18 a.m. and centered about five miles north of Naalehu in the Kau District and six miles deep, according to Wes Thelen, the observatory's Seismic Network Manager. Three aftershocks, magnitudes
1.6
,
1.5
,
1.4
, were recorded at 3:30 a.m.
The depth, location, and recorded seismic waves of the earthquake suggest a source on the large fault plane between the old ocean floor and overlying volcanic crust, a common source for earthquakes in this area, scientists said.
Source:
Star Advertiser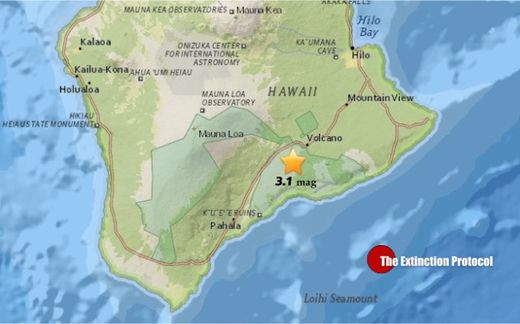 Lava lake rises to record levels
:
The lava lake at a popular Hawaii tourist destination is rising to record heights. The latest eruption occurred at the Kilauea summit lava lake across from a visitors center. But never fear, said Janet Babb with the U.S. Geological Survey. The overlook at the Jaggar Museum at the Hawaii Volcanoes National Park is more than a mile away from the crater and officials don't believe visitors are in danger.
Gas building up inside the crater's lava bed caused the dramatic eruption, which hurled molten lava and rock fragments 285 feet to the top of the rim, she said. "When a rock falls into that lake, it causes a reaction," Babb said, "much like if you were to uncork a bottle of champagne by hitting the top off with a hammer."
Source:
CNN