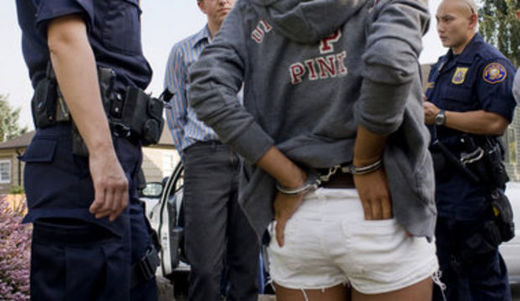 After years of enduring abuse and sexual exploitation in the human sex trafficking trade, Jessa Dillow-Crisp is telling her story. Part of the details of that story implicates many who were sworn to "serve and protect" who were doing anything but that.
Instead, Dillow-Crisp told an audience at the Colorado State Capitol that many of those involved - on the level of abuse and helping facilitate human trafficking - were police officers.
This revelation came as part of Human Trafficking Awareness and Advocacy Day.
Dillow-Crisp recounted that her victimization began when she was a child, saying that "I was a little girl and was sexually abused by family members. I had to pose for pornographers and was sold to countless men on a daily basis."
She explains that she was trafficked domestically in Canada and throughout the United States.
She knew she had few options to get out, as she couldn't even turn to the police who had themselves taken part in the abuse.
"There was gang raping," she recalled. "The police officer who handcuffed me and raped me, told me I would be put in jail if I opened my voice."
"I had somebody very close to me tortured and she eventually died in front of my eyes," she continued. "This stuff happens and I'm here to tell you the reality of its existence."
Colorado Attorney General Cynthia Coffman said that
while many think of human trafficking and sexual trafficking as something that happens abroad, "we know differently."
Thomas Ravenelle, the Special Agent in Charge of the FBI office in Colorado, said that "the Innocence Lost Task Force recovered 18 children in a one week period, who were being exploited through prostitution. In the hands of their abusers, they're subjected to numerous assaults, illicit drugs and continued abuse, including sex trafficking."
"It's not an issue we can arrest and prosecute our way out of," Ravenelle added. "It's only through a multi-disciplined approach involving investigations, prosecution, victim advocacy, treatment and professional care, parents and communities as a whole where we can make a difference."
David Thompson, the El Paso County District Attorney said that,
"Human Trafficking has been called modern day slavery. Unfortunately for its horrified victims, that shocking term and the historical image it refers to is not an exaggeration."
Dillow-Crisp says that
there were people at all levels of society involved in the abuse.
"I met a woman who claimed she wanted to help," she recalled. "It was at church," after she first managed to escape the human trafficking. She was "at a pancake breakfast" when someone she thought had approached her as a "friend" said, "Jessa, I see sexual abuse in your eyes."
But this "friend" ended up forcing her back into prostitution.
"During the 2010 Winter Olympics, it was not fun and games for me," she added. "I ended up being exploited. I ended up being sold to hundreds of people."
"The responsibility that I feel is to be a face for hundreds of individuals here in Colorado," she explained. "Including men, women and children, who are being abused and exploited right now."
Watch the video report
here
...