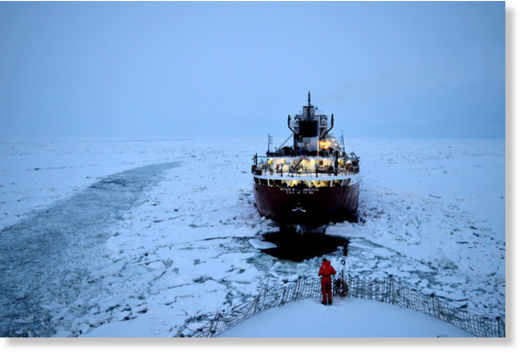 The trip to pick up a load of iron ore powder in Conneaut, Ohio, was supposed to take four days by way of the Great Lakes.
But within sight of its destination, the cargo ship, the Arthur M. Anderson, got trapped in ice. Two heavy icebreakers from the Canadian Coast Guard eventually broke the vessel free.
It was a 24-day ordeal, and the ship returned to its home port in Wisconsin without picking up the cargo.
A deep freeze this winter left much of the Great Lakes blanketed in thick ice, sidelining the ship lines and companies that move vast amounts of grain, cement and other commodities through this system of waterways. And now the spring thaw, which creates piles of impassable ice, will most likely create more delays.
"There's a lot of ice out there, and we need to understand the impact of that ice," said Mark Barker, the president of the Interlake Steamship Company, which carries mostly iron ore, coal and limestone on its nine ships.
"Last year, we pretty much lost the month of April."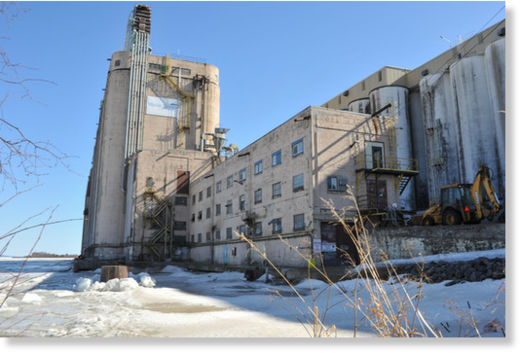 Cold spells and snowstorms have taken a bite out of businesses across the Northeast and Midwest of the United States, as well as in Canada. Car manufacturers have blamed the weather for weak sales. Housing starts, too, have slumped. And blizzards in places like Boston have been brutal for many local businesses.
Michael Dolega, who analyzes the United States economy at the Toronto-Dominion Bank, says he expects that the weather will cut first-quarter growth by as much as three-quarters of a percentage point. And not all of that loss will be made up later in the year, he said.
"I don't think it's a welcome development," said Mr. Dolega, who is based in Toronto.
The Great Lakes shipping trade largely hibernates during the late winter months, with occasional sailings for supplies like road salt. The Arthur M. Anderson was making its last run of the season in early February when it became stuck.
Shipping is usually up and running again by March.
But the opening of the St. Lawrence Seaway, the critical system of locks that connects the Atlantic Ocean to the Great Lakes, has been postponed until April 2. Even when the locks open, there is no assurance that all of the lakes, particularly choke points prone to ice buildup, will be navigable.
Last year's ice-induced delays reduced early shipments from the United States by seven million tons, according to the Lake Carriers' Association, which represents American shipowners. That amounts to about 10 percent of all American shipments on the lakes.
The Great Lakes are a vital conduit for companies in a wide range of industries. Grain from farms in Western Canada makes its way to markets around the world. Iron ore travels to steel mills along the shorelines. Power plants depend on the coal that travels via the lakes. Companies in steelmaking, electrical generation, construction and agriculture — like Cargill, United States Steel and Lafarge — all need the waterways.
For companies now facing dwindling stockpiles, there are few alternatives to ships for restocking. Shipping by rail is more costly, even if the tracks were not already overloaded. And hauling large quantities of, say, iron ore by truck is neither practical nor cost-effective. Replacing a single Great Lakes ore-carrying ship requires about 2,400 tractor-trailer trucks.
During a normal winter, some ships can continue to make relatively short treks without much trouble, particularly when ice cover is light. But the last two winters have been particularly harsh.
In 2014, ice cover peaked at 92.5 percent, according to the National Oceanic and Atmospheric Administration's Great Lakes Environmental Research Laboratory in Ann Arbor, Mich. Ice persisted in some places until June. This year, ice cover was 89.1 percent.
"Two especially severe winters back to back — we haven't seen that in a long time,
" said George A. Leshkevich, who tracks the ice for the research laboratory. "All the lakes seem pretty brutal."
It has created nightmarish troubles for vessels that must continue to attempt runs through the worst of winter.
Truck and train cargo that is too dangerous or too large for the bridge and tunnels spanning the international border between Detroit and Windsor, Ontario, must instead travel the Detroit River. But dense ice stopped the Detroit-Windsor Truck Ferry for 31 days this year, 25 of them consecutively. At one point the ferry's tug was stuck in Windsor with its barge separately frozen to a dock in Detroit.
Ed Bernard, vice president of the Toronto-based Precision Specialized Division, a heavy haul company, said he waited more than two weeks to ferry across the river sections of large chimneys destined for Ohio.
Gregg Ward, the co-owner of the ferry, said, "Our expenses continue, so it's a tragedy for us. By the time this is over, we've lost 20 percent of the year."
As the thaw gets underway, the shipping situation can actually worsen if wind causes ice to pile up in stacks. "I've been on a 235-foot Coast Guard ship going full speed ahead, and when it hit one of those, the ship shuddered to a stop," said Lt. Davey Connor of the Coast Guard district in Cleveland, which is responsible for the Great Lakes.
Many companies are now playing the waiting game.
A United States Coast Guard icebreaker made initial attempts at breaking up ice last week in the port here. Eight imposing grain elevators, which collectively have the largest storage capacity in North America, make the Thunder Bay port an important hub for Canadian exports heading to the Atlantic Ocean.
Once again this year, the season's first ships will not get loaded in March as they normally are. As the Canadian Wheat Board's elevator nears capacity, Paul Kennedy, its manager, says that he may soon be forced to stop daily unloadings of 90 or so rail cars, which have come from the western part of the country.
"They're starting to hunt and peck a little bit for space," Mr. Kennedy said of his employees in the concrete elevator. "You don't want to get to the point where you can't unload any more cars and you've got loaded cars sitting on track."
Railroads impose a $100-a-day charge for every loaded but idle car stuck on their tracks. Last year, when shipping didn't start in Thunder Bay until April 26, Mr. Kennedy estimates that about 2,000 rail cars destined for the eight grain elevators along the city's shoreline were backed up in rail yards.
The delays are just as painful for the companies that depend on the various commodities.
Robert Lewis-Manning, the president of the Canadian Shipowners Association, said that last year, two large steel makers "were getting awfully close to having to lay off people" because their stockpiles of iron ore, coal and coke almost ran out in the spring. He declined to identify the companies.
As his fleet of 22 ships gears up to resume service, Allister Paterson, the president of Canada Steamship Lines, said he expected that the most anxious customers would be suppliers and users of road salt along the lakes and the east coast of North America. With their stocks all but wiped out, such players will need to immediately start the long process of rebuilding.
"They were still recovering from last year, trying to get inventories up," he said. "And now we have another brutal winter, so I suspect they will be in a restocking mode for quite a while."