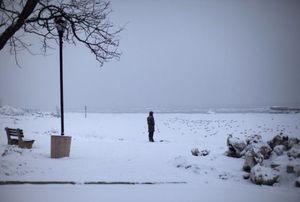 Winter's relentless battering was poised on Monday to hit northern states across the nation with more snow and ice as the season's bitter weather stretched its reach into the early days of March.
A fresh storm was due to stretch from Wyoming to Michigan on Monday evening and cross all the way to Maine by Tuesday,
meteorologists predicted.
Warmer air mixing in from the South will create messy conditions of icy rain in parts of the Midwest and Northeast, said Accuweather.com.
Icy travel conditions are expected in St. Louis, Chicago, Indianapolis, Cincinnati, Pittsburgh, Philadelphia, New York and Boston, the weather website said.
Three to four more inches of snow is likely with the next storm in Connecticut and Massachusetts, the National Weather Service said.
Boston, which posted its coldest February on record and its second-snowiest ever, was likely to see two to four inches of new snow on top of the more than 102 inches recorded so far this winter.
The city could surpass its record winter snowfall of nearly 108 inches, set in 1995-96, with the pending storm.
Harvard University professor Moshik Temkin, walking his son to school along slushy narrow sidewalks in Cambridge, said he would be happy to see the record left unbroken.
"I'm pretty satisfied already with what is we have," he said. "I don't think more snow would be good for anybody."
Boston student Harrison Sidell, 20, said he had more mixed feelings about the historic snow accumulation.
"Since we're so close, we may as well break the record," he said. "But I'm really tired of the snow. If we could break the record and then it started raining right then and all the snow just goes away, that would be nice."
Snow on Sunday and early Monday fell from the nation's capital to New England, leaving five to six inches of fresh accumulation in Connecticut, Rhode Island and Massachusetts, according to the National Weather Service.
Eight inches of new snow was reported in South Kingston, Rhode Island, the Weather Service said.