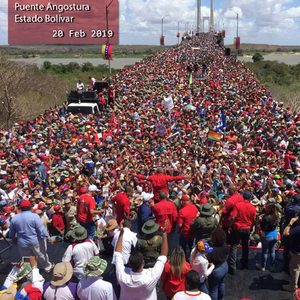 20 February 2019: Pro-Maduro demonstration on Angostura Bridge in Bolívar state, Venezuela
When men yield up the privilege of thinking, the last shadow of Liberty quits the horizon.
- Thomas Paine
Recent Comments
My friends often surf in Nicaragua, without problems. The locals all say that the only problems- EVER! - were the malevolent, murderous 'contras.'...
---
This is fascinating. Thanks for posting.
---
Here it is LIVE [Link] RIP kids
---
NOT MY KIDS! (At least those I know about. ) Joking. Which leaves none, but I sure love my nephews and nieces. (A/k/a, 'niblings', which is better...
---
" An aid convoy that tried to penetrate the border earlier on Friday was led by the self-proclaimed interim president, Juan Guaido." So he was in...