About NVRRPNT
"Every true faith is infallible. It performs what the believing person hopes to find in it. But it does not offer the least support for the establishing of an objective truth. Here the ways of men divide. If you want to achieve peace of mind and happiness, have faith. If you want to be a disciple of truth, then search." - Friedrich Nietzsche
I am an Arab American from Palestinian descent. I was born and raised up in the Middle East til the age of 18 when immigrated to the USA, where I currently reside, for my higher education. As a 16 year old civilian I witnessed first hand Iraq's invasion and occupation of Kuwait, and eventual defeat. Ever since then I've had a deep interest in the world geopolitical arena, especially in regards to the social and psychological ramifications of the Industrial Age on humanity's path. My perspective distills science, history, religion, politics, human behavior, spirituality and the human psyche into a global reflection about our species and its physical, mental and spiritual evolution. I am a college graduate with 2 natural sciences degrees and have been through several stages of metaphorical, both mental and spiritual, experiences contributing to the person I've become today. As a disciple of truth my search is relentless. As a student of the world I have come to unequivocally embrace the following:
Honesty, Trust and Communication are the 3 fundamental platforms to create and sustain healthy interaction between one another. There are two things I learned from life after 40 years on this planet: 1) Unconditional love; either active or passive towards "most" of my fellow human beings and physically manifested life forms. 2) Freewill; never to deprive others of theirs…Those are the Divine's blessings.
Thanks for Reading & Salam to You...
~ Nizar E. Kafity (nkafity@yahoo.com)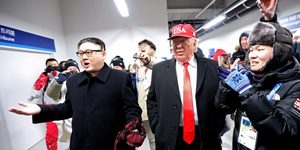 Did The Donald and Rocket Man secretly meet at the Winter Olympics in PyeongChang?
"In keeping silent about evil, in burying it so deep within us that no sign of it appears on the surface, we are implanting it, and it will rise up a thousand fold in the future. When we neither punish nor reproach evildoers, we are not simply protecting their trivial old age, we are thereby ripping the foundations of justice from beneath new generations."
- Aleksandr I. Solzhenitsyn
Recent Comments
Very straight forward and easy to understand. Most people should be able to 'get' this.
---
Niall: Fantastic - and sadly fantastically true in our 'through the looking glass' world - headline. I was going to write "Hilarious Headline!"...
---
Reading the book Inside the criminal Mind by Samenow puts all this in perspective. A criminal mind mixed with Postmodernism and you have a toxic...
---
I was 100k down the coast when that one went over and it looked like it was a cracker, amongst the damage it caused it was a very impressive light...
---
I get why FE is appealing to so many, there is something incredibly unusual (wrong) with our reality and it can be felt. FE can provide an answer...