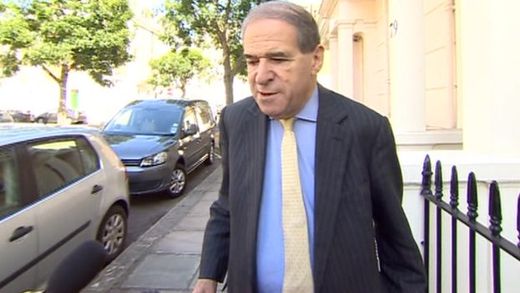 The Home Office is facing calls to explain why a 1980s dossier about alleged paedophiles at Westminster was "destroyed" by officials.
The document was
handed to then Home Secretary Leon Brittan
by Tory MP Geoffrey Dickens.
Lord Brittan passed concerns in it to the relevant authorities, but
the file itself was not kept
.
Labour MP Simon Danczuk said it may contain evidence that would identify child sex abusers.
The Home Office said a 2013 review found the "credible" elements of the dossier which had "realistic potential" for further investigation were sent to police and prosecutors
while other elements were either not retained, or were destroyed
.
In an earlier version of this story, we reported that the Home Office had launched a trawl for the missing dossier, but this had in fact already been carried out - even though most people, including Lord Brittan himself, appear to have been unaware of it.
Simon Danczuk had been pressing Lord Brittan to reveal what he knew about the dossier's contents - and for the Home Office to publish it in full - when officials released a statement saying they had already carried out a review that had found it had not been retained.
'Little fanfare'
A Home Office spokesman said Lord Brittan had not been contacted by the team who were conducting the review of old Home Office files, records and other papers to find out "what action was taken in respect of any material received".
But the team had found a letter from Lord Brittan to the late Tory MP Geoffrey Dickens, dated March 1984, which said some of the concerns he had raised about alleged abuse had been passed to the director of public prosecutions, who had passed them on to the police to investigate.
The review found that Lord Brittan had acted appropriately in dealing with allegations and it had "found no evidence of Mr Dickens expressing dissatisfaction about the action taken in respect of the information he had passed on".
Simon Danczuk is calling for a public inquiry into the allegations
Mr Danczuk told BBC News he also had been unaware of the review, a summary of which was published last year - but said it raised more questions than it answered.
"They must have published the review with little fanfare and people will ask why that would be the case," he told BBC News.
He called on the Home Office to reveal the outcome of any police investigations that may have resulted from the information in the dossier.
'Last refuge'
He added:
"Why would you destroy such an important document?
What action was taken? Were any prosecutions forthcoming? We need to know this. It's raising more questions than it is answers."
Downing Street rejected calls to publish the review in full.
The prime minister's official spokesman said: "The executive summaries fully reflect the work that was done."
What were the Dickens Dossiers? Conservative MP Geoffrey Dickens died in 1995
Analysis by Matt Prodger, Home Affairs Correspondent
Geoffrey Dickens was Conservative MP for Huddersfield West from 1979 until 1983; he was then elected for Littleborough and Saddleworth and held the seat until his death in 1995.
According to press reports at the time, he handed two dossiers to the Home Office in 1983-84. One of them, he reportedly said, concerned
a civil servant
and another one related to
an employee of Buckingham Palace
. They also contained allegations concerning the Paedophile Information Exchange, a group that campaigned to make sex between adults and children legal.
But in an interview with the
Daily Express
in August 1983 he also said he would expose
eight prominent figures
if the home secretary failed to act. He told the paper: "I've got eight names of
big people, really important names, public figures
. And I am going to expose them in Parliament."
In response, Lord Brittan said in a statement that he had received a "substantial bundle of papers" from Mr Dickens, which he had asked Home Office officials to examine and "report back to me" if "action needed to be taken".
A letter from Leon Brittan to Mr Dickens, dated March 1984, says: "In general terms, the view of the director of public prosecutions is that two of the letters you forwarded could form the basis for inquiries by the police and they are now being passed to the appropriate authorities."
On Tuesday, Mr Danczuk told the Commons Home Affairs Committee that
politics was "the last refuge of child sex abuse deniers" and there was a view among many politicians that alleged offenders should not be named
. He called on Lord Brittan to say what he knew about Mr Dickens' allegations.
On Wednesday morning, Lord Brittan issued a statement in which he said he had received a "substantial bundle of papers" from Geoffrey Dickens and had asked officials to "report back to me" if "action needed to be taken". He said he "did not recall" being "contacted further about these matters".
Shortly afterwards, the Home Office released a statement pointing to its 2013 report, which suggested Lord Brittan had, in fact, passed concerns raised by Mr Dickens to the relevant authorities.
It said: "In response to concerns raised in Parliament and the media relating to the handling by the department of historical allegations of abuse, the permanent secretary commissioned an independent review of all relevant papers received by the department between 1979 to 1999 to identify any information received and the outcome.
"The review concluded the Home Office acted appropriately, referring information received during this period to the relevant authorities."
'Simply disappeared'
Lord Brittan then issued a further statement, saying: "In the last hour I have been alerted to a Home Office independent review conducted last year into what information it received about organised child sex abuse between 1979 and 1999.
"The review found information had been dealt with properly.
"It also disclosed that material received from Mr Dickens in November 1983 and January 1984 had not been retained.
"However, a letter was sent from myself to Mr Dickens on March 20, 1984, explaining what had been done in relation to the files.
"The Home Office independent review is entirely consistent with the action I set out in my earlier statement. Whilst I could not recall what further action was taken 30 years ago, the information contained in this report shows that appropriate action and follow-up happened."
Alison Millar, a lawyer representing alleged victims of abuse relating to the Westminster claims, condemned the failure to retain the dossier.
She said: "My clients are incredulous at how this dossier can have simply disappeared.
It seems inconceivable that a document of such importance can have simply disappeared.
"I would strongly support the calls for a widespread inquiry into historic sexual abuse so that my clients could have their many questions answered about who knew what, and that a very troubling veil is lifted from the corridors of power."