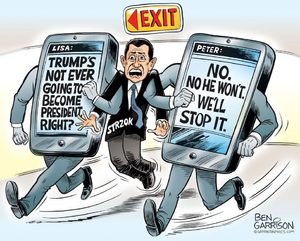 Strzok has left the building
Mystery creates wonder, and wonder is the basis for man's desire to understand. Who knows what mysteries will be solved in our lifetime, and what new riddles will become the challenge of the new generations.
- John Keel
Recent Comments
For SOTT's illiterate headline writer, it's "Twitter", not "Tweeter". That's even how it's spelled in this ridiculous authoritarian story.
---
Stories of so called past lives are due to spirit influence, spirits sharing their own earth experiences, which are then mistakenly taken as being...
---
What would be ideal, in my view, is for everyone to be trained, to the extent possible and at early age, to be ambidextrous. My mom could sign her...
---
maxleer-where you there? amazing you know so much!
---
Has anyone confirmed whether the attack was led by the US?