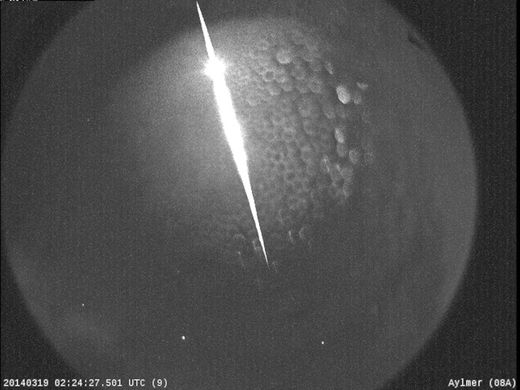 University researchers say at least one chunk of a meteorite may have landed in southwestern Ontario this week - and more rocks may also be waiting to be found.
Astronomers from Western University are asking people to check their properties for any remnants of the basketball-sized meteor they say likely came down near St. Thomas, Ont.
In Canada, landowners who find a meteorite on their property own it - but the researchers say they'd love to have a look at what they call a "Rosetta Stone" of scientific information.
Peter Brown, who specializes in the study of meteors and meteorites, says a "fairly bright" fireball was detected March 18 by Western's network of all-sky cameras as it passed over southern Ontario.
Researcher Phil McCausland says any pieces will likely be the size of a golf ball or a baseball and probably came down somewhere to the north or west of St. Thomas.
He says if any such rock is to be found, it's likely a member of the public will find it and the researchers are urging those who do find something to contact the university.
Brown says the fireball lasted for about five seconds before going dark and was seen by lots of people, particularly in the Toronto area, where it was clear that night.
"Based on all the video records we know that at least one and maybe more rocks survived the passage of this object through the atmosphere," said Brown.
Someone nearby where the rocks fell might have heard a whistling sound or a thud, he said.
It's the first significant meteorite fall in southern Ontario in about five years, Brown said, adding meteorites usually fall into lakes rather than on the ground where they can be found.