About Rick3 After spending most of my life in an alcoholic haze, sobered up Jan 3rd 2008. Seeing the insanity going on in the world I now understand why I drank! I am fifty three years old and work in a museum in Grahamstown, SA, which collects South African writing in English. Love the out of doors, camping, writing and sailing. Very concerned about humanity - I've had to catch up on what's happening around me, very quickly - and the push for NWO which strikes me as a psychopathic drive for total control. I have searched the internet for a site such as Sott. Thanks muchly for this.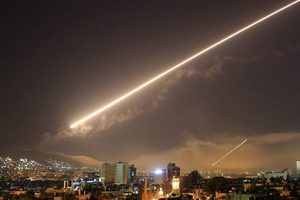 Syrian air defense systems protecting Damascus - the oldest continuously-inhabited city on Earth - from Western airstrikes, 14 April 2018
In the Truth there is no news, and in the News there is no truth
- Popular Russian saying under Soviet Communism
Recent Comments
Big threats from a small group squatting on someone else's territory. The un-holy war machine. Their god is a god of humane destruction. Read the...
---
For all of your information that is used, they should be free. Only the 1% can afford to use them. They were hoping to suck the other 99% into...
---
Once a system is corrupted how do you clean it up? Once psychopaths take over is there any hope? Seems this same sort of article can be written...
---
Satire? When you put it like that, it makes no sense at all! It isn't even funny.
---
The Ketogenic Diet would be closer to 100% effective on viruses than all the vaccines put together. When your body/lamp is full of oil, you become...