About Rick3 After spending most of my life in an alcoholic haze, sobered up Jan 3rd 2008. Seeing the insanity going on in the world I now understand why I drank! I am fifty three years old and work in a museum in Grahamstown, SA, which collects South African writing in English. Love the out of doors, camping, writing and sailing. Very concerned about humanity - I've had to catch up on what's happening around me, very quickly - and the push for NWO which strikes me as a psychopathic drive for total control. I have searched the internet for a site such as Sott. Thanks muchly for this.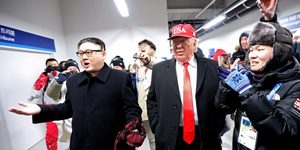 Did The Donald and Rocket Man secretly meet at the Winter Olympics in PyeongChang?
"In keeping silent about evil, in burying it so deep within us that no sign of it appears on the surface, we are implanting it, and it will rise up a thousand fold in the future. When we neither punish nor reproach evildoers, we are not simply protecting their trivial old age, we are thereby ripping the foundations of justice from beneath new generations."
- Aleksandr I. Solzhenitsyn
Recent Comments
Pretty cogent analysis, but you had to throw in the conflation of "radical leftist 'ideologues'...causing so much division". Makes one wonder just...
---
Nikolas has some of the attributes of a genetic condition called Fragile X - long face, prominent ears, strong jaw, and aggressive behaviors. I'm...
---
So it's an aware thinking cow...Bettcha they wont use this one for Line Breeding.
---
And they say animals do not understand or are aware. Moooove over science, this cow just showed they do. +1
---
I had an experience (without the sex part). I awoke suddenly with the Fedora wearing shadow, nearly up to the ceiling with around 8 "little' bald...