Hollywood producer gives interview in which he confirms earlier claims that he was an arms dealer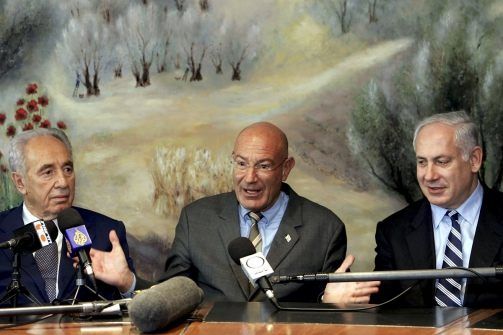 The Hollywood producer behind box office hits including
Fight Club
,
Pretty Woman
and
LA Confidential
has spoken about his life as an Israeli secret agent and arms dealer, saying he was proud of working for his country.
Arnon Milchan gave a lengthy interview to the Israeli documentary programme Uvda, broadcast on Monday on Channel 2, confirming claims made earlier in an unauthorised biography that he
worked for an Israeli agency
which negotiated arms deals and supported Israel's secret nuclear weapons project.

Comment: Ahem, he's referring to the Mossad.


Milchan, who was born in Israel, was recruited as a young businessman to the Bureau of Scientific Relations by Shimon Peres, now Israel's president, in the 1960s. The bureau, which worked to obtain scientific and technical information for secret defence programmes, closed down in 1987.
Milchan, 68, is now the
chairman of New Regency, which has produced more than 120 Hollywood movies since the 1970s, working with actors and directors such as Robert de Niro, Martin Scorsese, Roman Polanski, Oliver Stone, Russell Crowe and Ben Affleck.
During the programme, Milchan said: "Do you know what it's like to be a 20-something-year-old kid [and] his country lets him be James Bond? Wow! The action! That was exciting."

Comment: Just in case any SOTT.net readers are unaware: 'James Bond' types in real life are psychopaths who engage in the lowest behaviour imaginable.


At the peak of his activities, he was operating 30 companies in 17 countries and brokering deals worth hundreds of millions of dollars, according to the programme.
But, Milchan said, it was a challenge to overcome his reputation as an arms dealer. "In Hollywood, they don't like working with an arms dealer, ideologically... with someone who lives off selling machine guns and killing. Instead of someone talking to me about a script, I had to spend half an hour explaining that I'm not an arms dealer. If people knew how many times I risked my life, back and forth, again and again, for my country."

Comment: You weren't "risking your life"! You were killing and ruining many others' lives.


He should have foreseen the difficulties and been more robust about disapproval, he added. "I should have been aware of that, of what I'll go through, and said, 'Fuck you. You know what? I did it for my country, and I'm proud of it.'"

Comment: Charming.


In Hollywood, he said, he detached himself from "physical activities" in order to devote himself to film-making. However, he claimed to have
used connections to promote the apartheid regime in South Africa in exchange for it helping Israel acquire uranium.
In an appearance in the programme, de Niro said he once asked Milchan about rumours concerning clandestine activities on behalf of Israel. "He told me that he was an Israeli and that of course he would do these things for his country," the actor-director said.

Comment: Oh, well, that makes it ok then! Slavery, child prostitution, chemical weapons experiments, nuclear weapons proliferation, organ harvesting and trafficking, genocide, warmongering, torture, weapons deals, spying, assassinations... it's all kosher coz he did it for his country!

Give us a break.


According to Ilana Dayan, the investigative journalist who made the programme, Milchan "has been an entrepreneur since his early 20s, crossing from various realms of business, showbusiness, politics and military, always bringing his unique charm and way of befriending and creating close bonds. And that was early on identified by Peres."
"
Milchan walks a fine line of being both an insider and an outsider,
" she told The Hollywood Reporter.