Fire crews worked Tuesday to stop two large Nevada wildfires advancing through rugged mountain areas, including one that billowed smoke visible from downtown Las Vegas and another southwest of Reno, while administrators added resources and began looking to the weather to help contain flames.
Fifty firefighters were added to the lines on the Carpenter 1 Fire on Mount Charleston northwest of Las Vegas, bringing to more than 800 the number of personnel battling a blaze identified as the top priority in the West, U.S. Forest Service spokesman Jay Nichols said.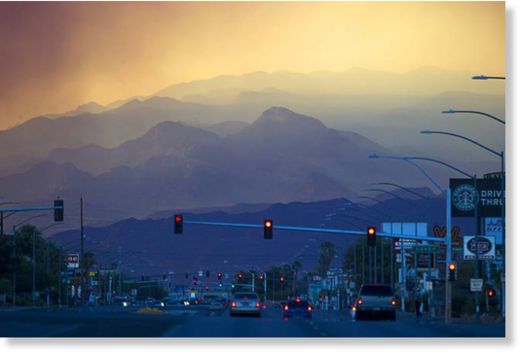 "We've got a fire running from 11,000 feet to about 5,000 feet," Nichols said of the elevation of the blaze sparked by lightning July 1 and still just 15 percent contained eight days later. He said some of the increase in the fire size was due to backfires set to burn forest fuel and protect homes.
The fire area of almost 31 square miles was nearly the size of Manhattan. It charred pinion, juniper and bristlecone pine forest in steep territory and crept to within about a mile about 400 homes in mountain hamlets. More than 500 residents and another 98 teenagers at a youth correctional camp remained evacuated since the weekend. State highways into the area are closed.
"It's dry," Nichols said. "We've got torching trees and spotting fire. We're being extremely careful and monitoring the safety of firefighters and the public."
Smoke from the fire behind the landmark peak created a brown haze that stretched northeast of this city of 2 million residents. The Clark County Department of Air Quality issued a health advisory that county spokesman Erik Pappa said would remain in effect through Sunday.
In northern Nevada, the Bison fire grew Monday to 40 square miles in the Pine Nut Mountains near Gardnerville and Carson City. Fire spokeswoman Lisa Ross said one of the 720 firefighters on the lines suffered a knee injury as crews battled gusty winds, low humidity and temperatures in the 90s. Containment was reported at 25 percent.
Douglas County commissioners declared a state of emergency to enable the county to seek more state and federal assistance.
Fires were also burning across the West in California, where 100 mountain cabins were reported to have been destroyed in San Diego County, and in Alaska, Idaho and Arizona.
Meanwhile, a memorial service was being held Tuesday in Prescott, Ariz., for 19 members of an elite Hotshot crew killed in a wildfire near Yarnell north of Phoenix.
In Nevada, Nichols said 19 elite Hotshot crews and 44 engine companies were battling the Carpenter 1 Fire some 25 miles northwest of Las Vegas.
No injuries were reported in the fire that started July 1 on the west side of Mount Charleston near Pahrump and quickly spread east into rugged terrain reachable only on foot.
The Federal Emergency Management Agency promised Monday to reimburse Nevada for 75 percent of the cost of fire suppression efforts, which federal Bureau of Land Management spokeswoman Hillerie Patton said Tuesday was approaching $5 million.
Mount Charleston is a popular weekend getaway, where summer temperatures can be 15 to 20 degrees cooler than in Las Vegas, where temperatures topped 100 again on Tuesday.
More than 400 homes in Trout, Kyle, Lee, Harris Springs and Lovell canyons were evacuated during the weekend, along with a Clark County-run youth correctional camp that houses 98 teenagers at a mountain elevation of almost 8,500 feet above sea level. State highways 156 and 157 were closed into the canyons, and evacuation shelters were set up.
Crews were also working to protect about 100 non-residential structures including barns, sheds and corrals, Nichols said.
Daytime high temperatures on the mountain were expected to decrease over the next few days after peaking at 90 degrees on Saturday with humidity levels in the single digits. Forecasts projected temperatures in the 70s with a chance of thundershowers over the next few days. Nichols noted that lightning could ignite more fires and storms could create unpredictable gusty winds.
The 25,700-acre Bison Fire, straddling the Douglas and Lyon county lines in northern Nevada, charred an area about two-thirds the size of the city of Washington, D.C. It doubled in size Monday as it burned through tinder-dry brush, dead trees and pinion-juniper forests.
The mountain range also stretches into Carson City. Back-country roads leading from the state capital into the mountains were closed due to the fire danger.
No homes have been lost since the Bison blaze was ignited by lightning July 4, but officials said several old structures burned in the Slater Mine area.
In other wildfires burning in the West:
- In Arizona, more firefighters are being called in for a wildfire that has forced evacuation of 200 homes in Kearny, located 73 miles southeast of Phoenix. The fire has burned 300 acres of dense vegetation and one house. The fire started Monday.
- In Southern California, a wildfire burned more than 100 cabins at a mountain camp east of San Diego, and officials Tuesday said it threatens 120 homes in the rural area. The 7.3-square-mile fire was 15 percent contained Tuesday.
Read more
here