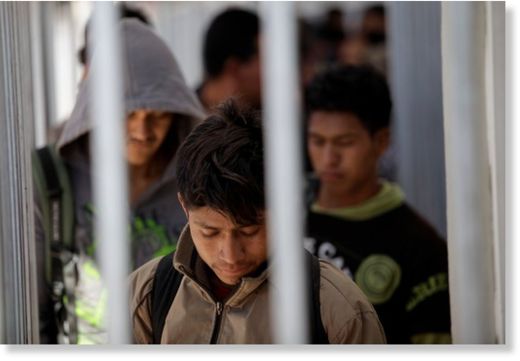 The House voted Thursday to overturn all of President Obama's non-deportation policies, in a vote freighted with meaning as Congress warily eyes a broader immigration debate later over the next few months.
It was one of several rebukes the House issued to Mr. Obama's immigration policies as the chamber debates a homeland security funding bill. The House also voted to preserve a program that lets local police help enforce immigration laws, rejecting the president's effort to defund it.
The votes signal that the House will continue to be a major hurdle for Mr. Obama, who wants to see Congress pass a bill legalizing the 11 million illegal immigrants now in the country. The deportation policy vote shows House lawmakers - and Republicans in particular - are still focused on enforcement.
The 224-201 vote broke chiefly along party lines and would undo what Republicans refer to as Mr. Obama's administrative "amnesty" for illegal immigrants.
The provision would stop the administration's ability to implement a series of memos that excluded most rank-and-file illegal immigrants from the danger of deportation. That would clear the way for U.S. Immigration and Customs Enforcement agents to begin deporting those illegal immigrants again.
That would include so-called "Dreamers," the young adult illegal immigrants who came to the U.S. as children and who have proved to be among the thorniest questions of the immigration debate.
House members were debating the broader homeland security spending bill, which funds immigration enforcement.
Mr. Obama's deportation record has been the subject of heated debate.
He argues he's deported more people than any other president - though internal documents show that he's boosted those numbers by including some immigrants who just crossed the border as deportees. Excluding those numbers shows deportations from the interior of the U.S. actually dropped last year.
Still, immigrant-rights groups say Mr. Obama is deporting too many people, and have called for a halt to most deportations while Congress prepares to debate a broad legalization bill.
While the vote on the deportation policy was divided along party lines, with just a few Democrats voting to overturn the policy and a half-dozen Republicans voting to preserve it, the vote on local law enforcement was more bipartisan.
The 245-180 vote saw 16 Democrats join with 229 Republicans to support the local law enforcement program, known as 287(g). Minnesota Rep. Michele Bachmann was the only Republican to vote with the Obama administration to cut the 287(g) program.