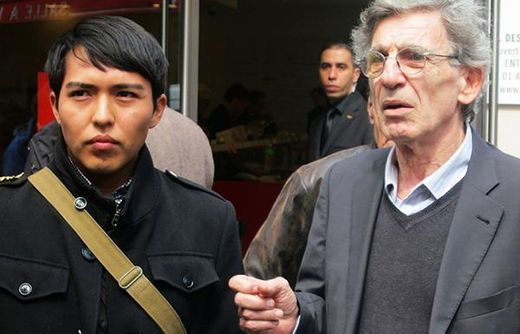 As many concerned Hopi had feared, the auction of 70 katsinam happened on April 12, despite passionate protests both outside and within the Drouot auction facility in Paris.
In an auction
described by an AP reporter
as "chaotic," the items, commonly referred to as "masks," brought in 930,000 Euros, or 1.2 million, over the pre-sale estimate of copy million. One of the katsinam, or "friends," called the Crow Mother, sold for $209,000.
On the street outside the building, a protester carried the American Indian Movement (AIM) flag as a group sympathetic to the Hopi's cause handed out leaflets. Bo Lomahquahu, a Hopi student studying in Paris, was a notable presence. He
described the scene to the New York Times
as "very surreal and heartbreaking." He explained that the katsinam "are truly sacred to us; we feed and care for them. ... And to see people walking out with them in bags, like some object, I felt really helpless and hurt."
The debate over the nature of the katsinam -- whether they are artifacts to be bought and sold, or spiritual beings than only belong to the Hopi people -- raged within the auction hall. At one point in the presentation by Neret-Minet Tessier & Sarrou, a 1970s photograph of a Hopi leader holding a katsinam was projected on a screen. It was too much for French filmmaker Jo Beranger, who called out in protest at the image and was escorted from the hall. Beranger
later told the AP
that the use of the image of the now-dead leader to promote an auction so vehemently opposed by the Hopi was "a scandal" and "shameful."
As the gavel came down on the Crow Mother mask,
the BBC notes
, a woman called out "this is not merchandise, these are sacred beings!" In tears, she was removed from the auction hall by security.
Gilles Neret-Minet, who expressed his determination to hold the auction in
an interview posted to ICTMN earlier this week
, conducted the auction in a manner that struck some as needlessly disrespectful.
From the AP
:
"He likened one mask to a clown's face, and said the eyes of another resembled the diamond-shaped logo of French car maker Renault. He jokingly told guests the sale 'is the deal of the day.'" He warned the audience that the pieces were not to be displayed in public, saying with a grin that "they will be confiscated by the Indians, you know, they are here."
Stephen Corry, Director of Survival International, a group that
tried to stop the auction with a legal challenge
, delivered his own warning. "Potential buyers of these objects should be aware that the Hopi are profoundly distressed at their sale, and regard them as the rightful property of the Hopi people,"
he said in a statement
. "French law appears to offer the Hopi little comfort, but we still hope that justice will prevail, and that these objects can still be returned to their proper owners."