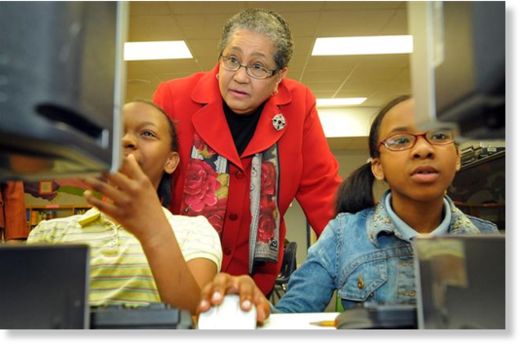 Among those named in the indictment handed down tonight by a Fulton County grand jury looking into the APS cheating scandal is former school chief Beverly Hall.
Hall and 34 others were indicted as a result of their alleged roles in the 2009 cheating scandal that toppled her regime, sullied the district's reputation and raised doubts about testing integrity nationwide.
In the indictments, there was only one count of racketeering, which carries up to 20 years in prison. But the alleged acts of false statements and writings, influencing a witness, theft by taking were the underlying crimes that supported the racketeering charge.
Out of 65 counts, one was racketeering, two were influencing a witness, five were theft by taking and the remaining counts concerned the crime of making false statements or writings.
The cheating discovered by the
AJC
in Atlanta has since been uncovered in many other school districts around the country.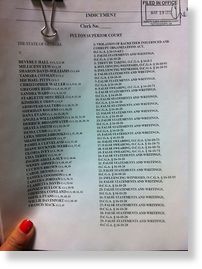 According to the
AJC
:
Former Atlanta school Superintendent Beverly Hall was the leader of a corrupt organization that used students' test scores to earn bonuses if they rose or intimidation and termination if they fell, according to a 65-count indictment returned Friday.
Grand jurors have been meeting for months, sorting out the Atlanta Public Schools cheating scandal, and on Friday they made clear their outrage at what they had been hearing by setting a bond of $7.5 million for Hall. She and the other 34 indicted - all for racketeering - have until Tuesday to surrender. They reached a decision after 45 minutes of deliberation.
"The whole purpose behind this is to vindicate the little children who got gypped out of a quality education," said former Attorney General Michael Bowers, one of three investigators who produced the report that was the blueprint for the grand jury and the final witness to testify before the grand jurors voted.
The indictment says Hall and the other 34 named "conspired" to make the school district look like it was more successful than it was.
The 90-page indictment says Hall put pressure on subordinates to reach goals on standardized tests. "APS principals and teachers were frequently told by Beverly Hall and her subordinates that excuses for not meeting targets would not be tolerated," states the indictment.

Those indicted included 13 teachers, one secretary, at least six principals, two assistant principals and seven testing testing coordinators.

Along with Hall, four other top administrators were charged. Among the names in the indictment were Milicent Few, head of human resources; Tamara Cotman, area director; Christopher Waller, principal of Parks Middle School where seven educators confessed to cheating, and five others were implicated; and former area superintendent Michael Pitts. Kathy Augustine, the deputy superintendent for most of Hall's tenure, was not among the 35.
So how does someone go from being national Superintendent of the Year, consulting with Bill Gates and Arne Duncan, to criminal indictment? That question will be considered by many people in the next few days. I suspect that a test-driven culture in which a school's worth is solely predicated on test scores will be among the reasons offered.
But there were also the ego boosts that came from leading a district that did well on tests. National and international attention is heaped on education systems that outperform others. Monetary awards were only part of it; there was also glory of being considered a savant, a leader among leaders.