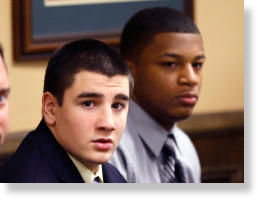 In her opening statement, the lead prosecutor in the case against two Ohio high school football players accused of raping an intoxicated 16-year-old walked the juvenile court judge through the "degradation and humiliation" suffered by the alleged victim on the night of Aug. 11, 2012.
"This case is simple and direct," said Special Prosecutor Marianne Hemmeter, addressing Judge Thomas Lipps, who will decide the case without a jury. "It hinges on the defendant's knowledge of her substantial impairment...their exploitation of her substantial impairment."
Ma'Lik Richmond, 16, and Trent Mays, 17, are charged as juveniles with sexually assaulting a 16-year-old girl while she was intoxicated during a night of partying. According to the Associated Press, Mays is also charged with illegal use of a minor in nudity-oriented material. Both have pleaded not guilty.
"You will hear witnesses testify that she was stumbling, slurring her words, and using others to help keep her balanced," said Hemmeter.
Hemmeter articulated the prosecution's timeline of the evening, asserting that Mays and Richmond held the girl's hair as she vomited on the street, assaulted her in the backseat of a car, and then took her to a party in the basement of a friend's house.
"You will hear witnesses testify that they saw Trent Mays try to put his penis in her mouth, but because her mouth wouldn't open, he abandoned that attempt," Hemmeter said.
She further stated that witnesses will testify to seeing Richmond inserting his fingers into the girl's vagina while she lay, apparently motionless, on a basement couch.
The two teens on trial sat together at the defendant's table, each wearing button-down shirts and ties and flanked on either side by their separate attorneys.
Trent Mays' attorney, Brian Duncan, gave a brief opening statement, telling the judge, "Trent Mays did not rape the young lady in question."
Richmond's attorney, Walter Madison, did not offer any opening remarks.
The judge has allowed a camera in the courtroom, but witnesses can opt not to be videotaped when testifying.