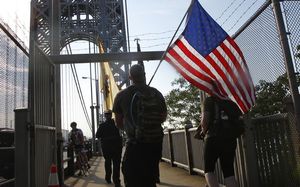 This past fall, the Army found out the results of a probe meant to determine if psychiatrists were reversing soldiers' PTSD diagnoses to save the government money by denying them medical retirements. Months later,
they still don't want anyone knowing
what's in those files. The Army has refused to release the results of the so-called Madigan inquiry, and attempts to get the report through Freedom of Information Act requests have all been denied.
"George Wright, an Army spokesman at the Pentagon, told NBC News that 'concerns brought up in the Madigan matter will be addressed' in a separate forthcoming report by the Army's Task Force on Behavioral Health,"
reports NBC News's Rebecca Ruiz
. ("Madigan" is the Madigan Army Medical Center in Tacoma, Washington.) According the same report, three Seattle-based news agencies have been denied Freedom of Information Act requests on the inquiry.
That's troubling because the Madigan inquiry was an internal probe into whether forensic psychiatrists at Madigan Army Medical Center were reversing PTSD diagnoses to save the federal government money. This group of forensic psychiatrists had reversed more than 300 diagnoses, suggesting these were more than just cautious second opinions. The evidence:
"Rubber Stamping" PTSD.
In memo obtained by the Seattle Times
, a Madigan psychiatrist told his colleagues during a lecture that a soldier diagnosed with PTSD could eventually receive $1.5 million. He warned his colleagues to be discerning when diagnosing PTSD. "He (the psychiatrist) stated that we have to be good stewards of the tax payers dollars, and we have to ensure that we are just not 'rubber stamping' a soldier with the diagnoses of PTSD,"
reads the memo
, which was published by the
Seattle Times
on February 6, 2012.
The Only Hospital to Use Forensic Psychiatrists as Screeners.
Forensic psychiatrists were involved in the screening of the patients at Madigan and Madigan was the only hospital that used forensic psychiatrists this way, the Army said on February 4, 2013. "A subsequent review of 431 Madigan cases - some of which had been overturned - led to PTSD diagnoses for 150 soldiers by last October," reports Ruiz, using information given to her by Senator Patty Murray (D-Wash).
Retaliation?
On February 18, 2013, Dr. Russel Hicks
was suspended by the Madigan Army Medican Center
, and action that he believes was "in retaliation for information he offered Army investigators who last year examined diagnoses of post-traumatic stress disorder (PTSD) at the hospital."
Secrecy.
The Seattle Times
,
The News Tribune
of Tacoma and KUOW, a Seattle public radio station,
were all denied FOIA requests
, and have exhausted all of their appeal options. The Army says its because it contains confidential health information, but it also means no one can know how the diagnosis decision were arrived at.