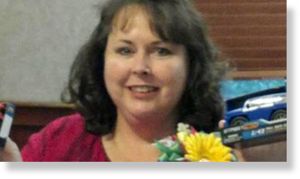 The death of an adopted 3-year-old Russian boy has been ruled an accident in Texas, just a week after Russian officials accused the boy's adopted parents of killing the child.
Authorities said today that
Max Shatto
, who had been adopted by Laura and Alan Shatto in November, died of a self-inflicted wound on Jan. 21.
An investigation into the boy's death was opened after he was rushed to Medical Center Hospital's emergency room shortly before 5 p.m. on Jan. 21 and later died.
Today's announcement carried contradicted a top Russian official who accused the boy's mother of murder last week.
Pavel Astakhov, Russia's children's rights commissioner, started wrote on Twitter last week: "An adoptive mother has killed a three-year-old Russian child in the state of Texas. The murder occurred at the end of January."
"The boy died before an ambulance called by his mother arrived. According to a report by medical examiners, the boy had numerous injuries," he added.
The tweets were later deleted, but Astakhov continued to blame the boy's adoptive parents for his death. On Thursday, he said he was told by a Texas social worker that the mother was responsible for the boy's death.
Texas officials denied those claims and the Shattos denied any role in their son's death, but declined to comment further about the issue.
Today, the Ector County district attorney and sheriff's department announced the findings of Max Shatto's autopsy report, which showed that he died from a lacerated artery in his abdomen from self-inflicted bruising, and that the boy had a mental disorder that caused him to harm himself.
No drugs were found in the child's system, and four doctors reviewed the autopsy report, ruling out the possibility that Shatto was fatally injured by his parents, officials said at the press conference.
The ruling could put to rest the outrage in Russia over what officials there called another example of why U.S. parents should not adopt Russian children. Astakhov's accusation of murder provided fuel for those in Russia who supported
Russia's decision to ban adoptions to the U.S.
The ban was part of Russia's response to a set of human rights sanctions that President Obama signed into law in December, but it cited the cases of 19 children who had died after being adopted by Americans.
The State Department says over 60,000 Russian children have been adopted by Americans since the fall of the Soviet Union.
U.S. officials feared the case would derail a long shot effort to convince Russian authorities to reverse the ban or at least allow more cases already in process to be completed.
In a statement after the investigation's results were announced, the U.S. Embassy sought to underscore the legitimacy its findings.
"Many local and state officials in Texas and independent experts worked diligently and professionally to examine the evidence concerning Max's death," the embassy said.
Last Friday, the U.S. Ambassador to Russia Michael McFaul wrote an emotional blog post urging Russian politicians and media to withhold judgment until the cause of death was officially determined.
"It is time for sensational exploitations of human tragedy to end," he wrote.
The case was also discussed by Secretary of State John Kerry and Russian Foreign Minister Sergei Lavrov when they met in Berlin earlier this week, part of a broader discussion about Russia's adoption ban and other topics.
After the accusations surfaced in Russia, Max's death became the top story in Russia. The boy's birth mother emerged and, in a tearful appearance on state-run television, said she had cleaned up her act and wanted Max's younger brother Kristopher back. On her way back from the interview in Moscow, however, the mother was reportedly kicked off a train after a drunken brawl.
On Saturday, thousands are expected to turn out for a rally in central Moscow calling for Kristopher to be returned to Russia.