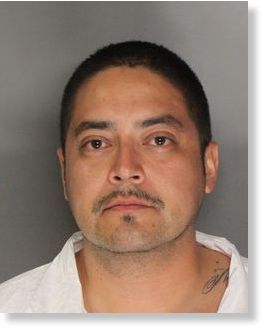 The boy allegedly killed in a horrific hatchet attack in Natomas on Tuesday night has been identified as 9-year-old Matthew Hernandez.
Sacramento police allege that the boy's father, Phillip Raymond Hernandez, 36, is responsible. He was arrested on suspicion of murder after the boy was found with fatal blunt force trauma in the Natomas home they shared with Matthew's 12-year-old brother and an elderly woman, according to police.
Sacramento police said it is unclear what led Hernandez to harm his child.
Police responded to the 2200 block of Atrisco Circle about 11:50 p.m. Tuesday after receiving two emergency calls from the residence. Upon arriving at the home, officers found that the boy was unresponsive.
He was declared dead at the scene.
Relatives at the home provided information and police immediately set up a perimeter of officers around the neighborhood. In about 15 minutes, Hernandez was found walking in the neighborhood.
He was detained without trouble. Homicide detectives and crime scene investigators were called in to investigate.
Police said that an initial investigation revealed that Hernandez went into the backyard of his home and grabbed a hatchet. He then broke a sliding glass door and found his son asleep on the couch.
An adult in the home heard the sound of breaking glass and went into the living room to find Hernandez holding a hatchet and standing over his son, according to a police press release.
A second son of Hernandez was also at home. That 12-year-old boy was not harmed and is in the custody of family.
The hatchet was recovered at the scene. The deceased boy's mother was out of California and is returning to Sacramento.
"There is no explanation for Hernandez' unimaginable actions," stated a police press release.