Robert Jackson's attorney said he will ask the Queens DA to drop resisting arrest charges. The case against cops has been referred to Civilian Complaint Review Board.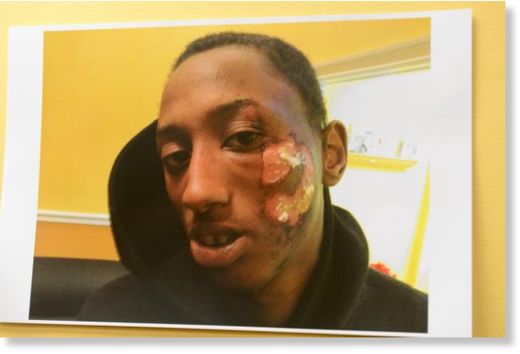 A Queens teen with a checkered past said Tuesday he was unnecessarily roughed up by cops during an arrest last month.
Robert Jackson
, 19, was collared on Jan. 8 outside of the Flushing YMCA for spewing profanities at an officer and ignoring requests to show his hands, according to court documents.
But during the arrest, police punched and mashed his face on the sidewalk, Jackson said, causing a sizeable C-shaped wound to his left cheek.
A small Ziploc bag of marijuana was found on Jackson, according to the criminal complaint.
"When I first saw my face, I was shocked," Jackson said Tuesday at a news conference in Flushing, still sporting facial abrasions.
Jacques Leandre, Jackson's defense attorney, said he plans to meet with Queens District Attorney Richard Brown this week and ask him to drop the charges.
Leandre, a Rosedale-based lawyer, is a candidate in next week's special election in the crowded race to fill the vacant City Council District 31 seat in southern Queens.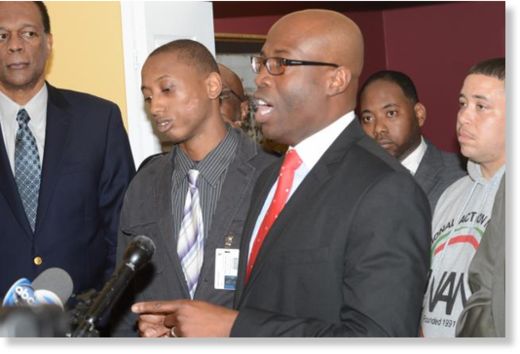 He said political gain played no factor in the decision to champion Jackson's defense and convene a news conference a week from election day. He said he took on Jackson as a pro bono client on Jan. 24.
"I couldn't create an incident on Jan. 8. I don't have the ability," Leandre countered emphatically, noting his work includes defending the youth against brutality. "I'm going to do that irrespective of what happens on Feb. 19."
Leandre unsuccessfully sued six of his opponents last month to boot them from the ballot.
An NYPD spokeswoman told the
Daily News
they are "aware of the matter" and it has been referred to the Civilian Complaint Review Board.
The Jan. 8 incident wasn't Jackson's first brush with the law. He has five prior arrests, including for weapons possession and trespassing. He has tried to escape police custody in the past, a law enforcement source said.
An amateur video of the arrest taken by a bystander was
posted online
but begins after cops already had Jackson on the ground.
Several clergy and community activists, including the father of Sean Bell, who was killed in 2006 by police gunfire, joined Jackson and Leandre to denounce the officers' behavior.
"He wasn't trying to hurt anyone," Leandre said. "Mr. Jackson is an innocent victim of police brutality."