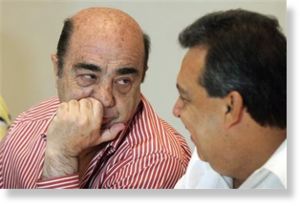 Acapulco - Mexico has arrested six men who confessed to the rape of six female Spanish tourists in Acapulco, a crime that drew global attention to the popular Mexican resort.
"We have six detainees who have confessed, totally confessed," Mexican Attorney General Jesus Murillo said on Wednesday at a news conference in Acapulco.
Early on February 4, hooded gunmen forced their way into a beach house the women rented, roughed up their seven male companions and raped the women.
Murillo said one of the suspects was apprehended on Tuesday, and the other five were detained overnight. Local officials said there was physical evidence that implicated the suspects.
Acapulco Mayor Luis Walton set off a media storm when he downplayed the seriousness of the attack, saying it could have happened "anywhere in the world," and that it hurt the image of the city, one of Mexico's most famous tourist destinations.
Acapulco is the biggest city in the state of Guerrero, which has been increasingly plagued by drug-related violence, prompting some exasperated residents in small towns to form "community police" forces.
The violence turned Acapulco into the murder capital of Mexico last year, with more than 1,000 murders reported by Mexican media in the city of approximately 800,000 people.
Mexican President Enrique Pena Nieto has vowed to reduce the violence that soared after his predecessor Felipe Calderon launched an assault on drug cartels.
Pena Nieto, who launched a program to boost tourism on Wednesday, pledged to create a new militarized police force and increase spending on security to cut crime.
"We will keep working to improve public security conditions, which, without a doubt, is a fundamental and indispensable condition for the development and promotion of our country," Pena Nieto said in the beach resort of Bahia de Banderas in the state of Nayarit.
Source: Reuters