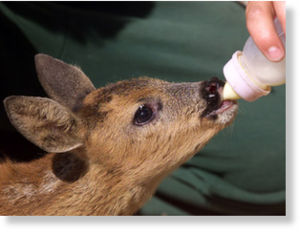 An Indiana couple has been charged with a misdemeanor and is facing up to two months in jail for rescuing an injured baby deer and nursing it back to health in their home.
Connersville, Ind. Police Officer Jeff and his wife, Jennifer Counceller, were in possession of a white-tailed deer that they found as an injured fawn on someone's porch three years ago. The animal had maggot-infested puncture wounds that the couple worried would be life-threatening. Anxious that the baby deer would not survive on its own, the couple brought it to their Indiana farm and nursed it back to health, not knowing that their good deed could land them in jail.
"I could feel all of the open wounds all along her back side and she wouldn't stand up," Jennifer Counceller told ABC News.
Naming the deer "Little Orphan Dani", the couple spent more than a year nursing her into adulthood and "getting to the point where she was able to go out on her own," Counceller said. But when an Indiana Conservation Officer made an appearance at their home and discovered the deer this past summer, the couple was informed that the Indiana Department of Natural Resources planned to euthanize it, claiming Dani could pose a danger to people and that keeping the animal was against the law.
"I was devastated," Counceller said. While nursing the deer to health, the woman eventually realized that she needed a permit to keep the animal, but didn't contact officials because she feared they would euthanize it at the sight of its injuries.
When conservation officials returned to the Councellers' home to put down the animal, Dani was nowhere to be found and the couple claimed the deer escaped from their backyard that same day.
To the knowledge of state officials, the deer never returned and could be living in the wild now - but the Councellers continue to face legal problems. Even though the deer escaped, the couple was charged with a misdemeanor and faces up to 60 days in jail and a $2,000 fine. Their trial will be held on March 7 in Fayette County, but the Councellers say they have no regrets.
"No matter what the law is, we did what was right for the animal," Jennifer Counceller told ABC.
As the couples' story received widespread media attention, the Councellers gained thousands of supporters, many of which signed an online petition demanding the the Connersville Police Department drop the charges. A Facebook group called "Drop Charges Against Connersville Police Officer" had more than 30,000 "likes" before 5 p.m. EST Wednesday, while the online petition had more than 25,000 signatures.
The petition's founder, John Wadby, said he has also raised $1,000 to pay for any fines that might be inflicted upon the couple.
"I've got their backs on every angle," he told the
New York Daily News
on Tuesday. "It's not like these people are criminals - they're good people."
Waudby said the media attention has drastically helped him procure signatures and that's he's now extending his campaign to target the law itself.
"It's like a wildfire that you just can't stop at this point," he told AP.
Although it would be cheaper to pay whatever fines the city of Connersville might inflict upon the couple, rather than hire lawyers to defend themselves, the couple plans to fight.
"Sometimes, it's not always about the DNR laws," Jennifer Counceller said. "Sometimes it's about common sense and what's right in God's eyes. And that's what I'm going to stand for."
Waudby said he plans to bring thousands of people with him to attend the Councellers' court hearings in March.