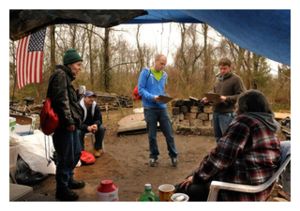 Klondike's compound is carefully concealed behind two dozen dying Christmas trees.
Tannenbaum, taken from the trash, shield the 62-year-old former mailman from prying eyes. But occasionally he invites area social workers on the "grand tour."
With pride, the man who calls himself Klondike demonstrates a makeshift shower system that runs on rainwater. Hot dogs and beans, rice and trail mix fill three plastic coolers.
"People see me taking this stuff from the dumpsters and they think I need help, but I don't need help," he said.
Bright blue eyes flare out from a full head of long, shiny white hair. Klondike's chest puffs out like a proud lion.
"I don't take anything anybody wants," he said of his compound. "I only take what other people throw out. I went 16 months and I didn't spend a nickel."
On Wednesday, Klondike and dozens of other homeless men and women opened their tents to volunteers from across Bucks County.
The unsheltered population and number of local encampments are growing, organizers said.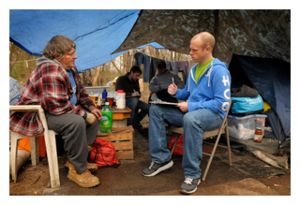 A sixth annual census of the unsheltered population will allow the government to seek greater funding for local outreach projects.
Matt Wilkinson of the Sunday Breakfast Mission said he recently located a mother and daughter, ages 79 and 59, living in their car.
"They started living out of their car because they didn't know what else to do," he said. "There's a lot of single mothers and families with children who are spending their last dime on a hotel room before they call us."
Linda McPeak said she was living in Bensalem before life took a turn for the worse. She slept Tuesday in the woods behind a local bowling alley.
"In January 2010, I was fired," said McPeak. "On March 18, 2010, I got evicted. "On March 23, my mom passed away and I was homeless."
"Rains coming on the way tonight so I'm airing my tent out," she said.
Bruce Miller, 57, of West Bristol, said he ended up on the streets two years ago. Volunteers interviewed him outside a McDonald's restaurant in Bristol. He said he previously worked jobs at a local car wash and used car lot.
Inside his tent, he kept warm with six candles arranged in metal toolbox. Heat from those candles fills his tent on even the coldest nights, he said. "I think it's safe."
"Anyone could do what we do," Miller added. "You just go on, day by day. You wake up. You go on."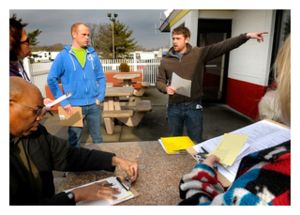 Social workers entered another camp in Croydon on Wednesday just as James Sandonato of Bristol Township was preparing lunch. Atop the gas grill, the former welder warmed day-old stromboli.
"In 2009, when the economy went bad I lost my job. I'd been working there 13 years," he said. "I'm trying every day, looking for a job. That's my plan. Get a job. Get my kids back."
Later in the afternoon, caseworkers connected with a young man named Brian who offered to take them to a new encampment in Middletown.
Tents were arranged in a field beside the train tracks near the Middletown Country Club.
The young man said he'd been homeless for about four months "but it only felt like two months because most of that time I was on speed."
Early estimates from Bucks County's homeless census likely won't be released until Friday, officials said.
The Housing Continuum of Care of Bucks County said it must collect information from 22 volunteers operating in clusters throughout Bucks County. That information will then be compared with the population currently enrolled in existing shelter programs.
A homeless count from last year discovered 41 men and five women living on the streets or in cars in Bucks County, officials said.
The number of unsheltered
homeless was up 29 percent
from the 33 persons discovered to be living outdoors in the county in 2011. A homeless count conducted two years ago located 36 people, officials said.
The Family Service Association of Bucks County operates the only year-round emergency shelter in Bristol Township. The shelter houses about 75 people, but the waiting list is much longer, said Marlene Piasecki, director of program planning and development. About 125 people are on the shelter waiting list at any given time.