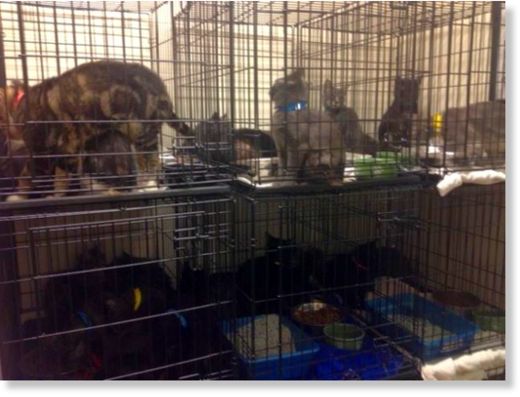 The Schoharie County woman who kept 67 dead cats in clear plastic bags in her freezer and had another 99 felines living in crates stacked floor-to-ceiling in unsanitary conditions repeatedly refused to give up any of the animals to shelter workers and rebuffed referrals to mental health professionals.
Authorities who had visited her house on Route 146 in its wretchedly befouled state - it was condemned and deemed unfit for human occupancy - said that she seemed to fit the profile of a hoarder. The excessive collecting of items, frequently animals, is also called compulsive hoarding syndrome. It is a psychological affliction often related to obsessive-compulsive disorder. In severe forms, psychological treatment is recommended.
Possible charges are being weighed against Irene Vandyke, 50, an office worker at a local Walmart store. Her husband, Russell Jack Vandyke, who worked as a cook in Schenectady restaurants, died unexpectedly at 47 in December 2010 after being stricken at home. The couple had been married for 27 years, according to a paid obituary. She has a grown son and granddaughter.
Those who know Vandyke marginally speculated that the sudden death of her husband might have accelerated the cat hoarding. A person may hoard items that he or she feels possess emotional significance and serve as a reminder of happier times, according to the Mayo Clinic website. It was obvious to those who saw the grim circumstances of how she lived that Vandyke had a hoarding problem with cats that had spiraled out of control.
"We felt sorry for her and bad for the kittens at the same time," said Schoharie County Sheriff Tony Desmond. Deputies made the grisly find in the kitchen freezer Wednesday after a neighbor called to complain to authorities about an overpowering odor of cat urine and feces at Vandyke's garbage-strewn property.
Desmond's empathy was tempered by a desire for justice. "I'd like to see her charged," said Desmond, who will meet with the district attorney next week to discuss the case and whether to press criminal charges. He said some of the dead cats are being examined in an attempt to determine a cause of death.
Kerrie Colin, manager of the Animal Shelter of Schoharie in Howes Cave, knew about Vandyke's cat crisis two years ago and tried different approaches to try to help her. She struggles to sympathize with the woman's plight, now that she bears the burden of caring for 99 cats and kittens with a grass-roots, financially strapped volunteer organization.
"The minute anyone tried to take her cats, she freaked out and threw them off her property," Colin said. "She definitely had a hoarder mentality. She's not a horrible person. She just needs help and counseling."
Vandyke could not be reached for comment and took the day off work Friday, according to a Walmart coworker. Vandyke told Desmond that she was staying with a family member. By law, she could not stay in her house. She has two weeks to clean and make repairs before a determination about future occupancy, Desmond said.
On Wednesday, as the dead cats were being removed and the living felines were being taken to the shelter for medical treatment, deputies wore respiratory gear against the choking stench. Vandyke accepted the outcome without complaint. Desmond told mental health workers to be on call, just in case. They were not needed.
"She was very rational and spoke intelligently," said Desmond, who met with Vandyke. She mentioned her husband's death and how the care of the cats had come to overwhelm her.
"She said she was spending most of the money she made on food, cat litter and medicine," Desmond said.
Colin said Vandyke had come to the shelter for donations of food and cat litter, but she stopped coming when shelter workers tried to coax her into giving up some of her cats and kittens.
When they couldn't reason with her, shelter workers went to her house and seized 30 of Vandyke's cats about two weeks ago, Colin said. "She called the next day and demanded her cats back," she said. "But she couldn't take care of them. The litter boxes were overflowing with feces, the smell and conditions were horrible."
Other attempts over the past two years were made to relieve Vandyke of some cats. Shelter workers went to her house and offered free cat food and litter if she would relinquish some of the felines. "She'd stand in the doorway, tell us to get off her property, say she was calling the police and shut the door on us," Colin said. Vandyke was never violent or threatening, she added.
Last January, SPCA officials seized 10 cats and went back to remove more, but left after Vandyke said she was calling the police and ordered them off her property
Colin had no explanation for the dead cats in the freezer.
Colin said the 99 cats were doing relatively well and all were being given antibiotics, deworming and flea treatments. Others had come forward to take some of the cats: Mohawk Hudson Humane Society, 10; Susquehanna SPCA, 6; and Guilderland Animal Hospital, 10.
Colin is looking for donations to defray the estimated $6,000 to $10,000 in costs for care. It will be a week or more before the cats' health has improved to the point that they can be put up for adoption, she said.
"The animals are in a better situation now, but she needs to get help," Colin said.
Desmond let Vandyke keep one dog.
"I didn't want to leave her with nothing," he said.