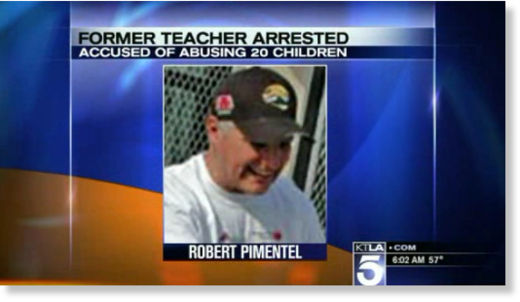 A former Los Angeles Unified School District employee was arrested Wednesday on charges that he sexually abused "at least 20 children" and one adult co-worker, KTLA-TV
reported
Thursday morning.
Police launched an investigation last year after two alleged victims came forward claiming that 57-year-old Robert Pimentel, who's worked for the district for nearly 40 years, sexually touched them both over and under their clothing.
The LAUSD superintendent said he removed the teacher as soon as the allegations were relayed to him, at which point Pimentel retired and began taking his pension before the district could fire him. The principle at the school, George De La Torre Jr. Elementary, was also removed.
A district-wide audit published in November found that many allegations of sexual misconduct by teachers went unreported,
according to The Los Angeles Times
.
School officials say they've implemented a "zero tolerance" policy toward inappropriate behavior with students following an earlier scandal involving a teacher molesting children.
Pimentel faces 12 different sexual abuse charges and authorities are searching for eight other suspected victims. He remains jailed on a $1 million bond.