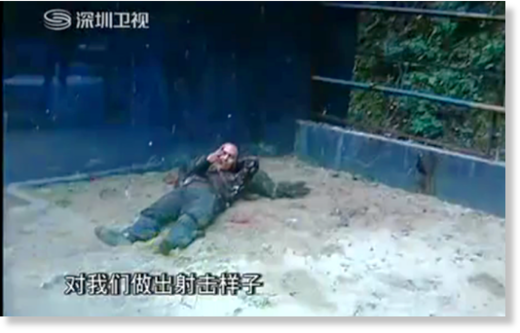 You'd think the safest place for animals is usually a zoo. That apparently isn't the case in China. At a zoo in China's Guangdong province over the weekend, a man apparently bit and killed a large flightless bird as part of an elaborate suicide attempt. Here's the Shenzen news report:
According to the blog The Nanfang, the man slashed his wrists after police were called. "As he began to lose strength, Li lay on the ostrich's corpse like a pillow before police approached him tentatively. He offered little resistance before police dragged him away,"
writes
Kevin McGreary.
The whole thing is pretty horrifying, but, horrifying zoo incidents seem to be the norm in China. The message of humane treatment just isn't working at China's zoos, where people are actually pretty mean to the animals. Just last week, the Shenzen Evening News
reported
that a zoo in Shenzen only had two crocodiles left from what was originally over a dozen because people like to throw rocks at the animals and throw garbage into their pools. Part of this is because people wanted to make sure they were real (via Google Translate):
A lot of people questioned the validity of the crocodile pond and curious members of the public threw mineral water bottles and garbage [at the crocodiles] resulting in crocodile pool filled with garbage.
And on January 6, the blog Beijing Cream
reported
on a story coming out of Hangzhou Zoo where people felt compelled to pelt the lions there with snowballs (photo evidence, right). And one Redditor
confirms
what we've heard: snow balls are actually one of the nicer things they throw:

Considering that people are routinely attacking zoo animals without any punishment, this ostrich murder should come as no surprise to those familiar with Chinese zoo etiquette. As Nanfang reports, "Li [the ostrich murderer] claims to have no recollection of the incident. The investigation is ongoing."