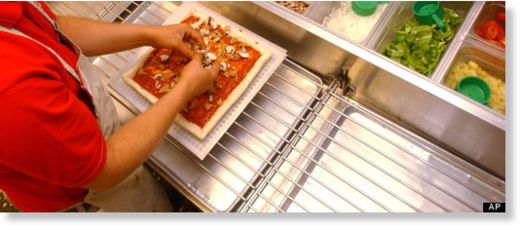 A man who apparently summoned the courage to rob a Montana pizza restaurant changed his mind as the clerk started to hand him money, broke down crying and ended up leaving with a pizza to feed his hungry family.
Helena Police Chief Troy McGee praised the clerk's actions.
"I'd say the clerk was pretty astute," McGee said. "I mean, he knows how to talk to this person. Kind of commiserated with him a little. Talked to him about it and you know actually changed his mind about robbing the place. That was pretty good."
Just after midnight Monday, a man wearing a hooded sweatshirt and a bandanna on his face entered a Papa John's restaurant and handed the clerk a note demanding money.
The cashier started to comply, but then the man started crying and told the clerk he was just trying to provide for his wife and family.
The clerk talked with him for a few minutes and offered to make the would-be thief a pizza and some chicken wings.
As the man waited for the staff to make the food, a large knife fell out of his pocket, McGee said. He did not threaten anyone with it.
The man took the food and some soda and left on foot.
"In Helena, I don't recall recently something like this has happened," McGee said. "We have had a few in the past where people have changed their minds. But actually sitting down and waiting for the food and that sort of thing, no."
McGee said he's not sure what he could charge the man with.
"We'd like to locate the suspect," McGee said. "We'd hate to have him do this again."
A Papa John's manager declined to comment.