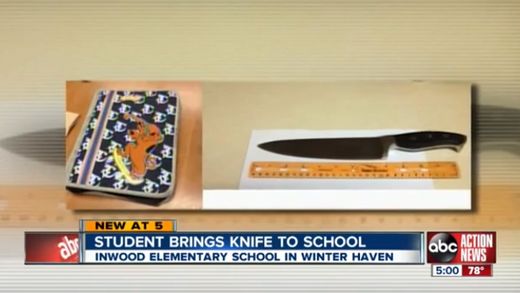 The parents of an 11-year-old boy accused of bringing a butcher knife to school on Monday, tells ABC Action News that he brought the knife to defend himself against bullies.
Winter Haven Police say a classmate first noticed the knife at Inwood Elementary and told the teacher. Officers immediately brought the 5th-grade student into custody.
The eight-inch knife was so big, police say, it stuck out from inside the boy's book binder that he brought to class.
"How do you let a big, giant butcher knife, if it was a big, giant butcher knife, how do you let it get in your kid's backpack without them knowing?" Asked Michael McDurmon, a parent of a child who attends Inwood Elementary.
Police are still investigating whether any direct threats were made with the weapon.
"He's been interviewed, but there's been a couple different things said so we're going to do some more interviews and try to narrow down exactly why this student brought this knife to school," said Capt. David Brannan with Winter Haven Police.
Monday afternoon, the boy's father and grand mother spoke to ABC Action News over the phone and tell us that he brought the knife to school because lately he's been a target of bullies.
The family even says they recently told school administrators about the problem, but they didn't take any action.
The school district and police don't have a record of those concerns being addressed.
"Right now there is nothing on file with the school that she has been told of of any bullying. But there will be more interviews done to find out," said Brannan.
The school district denied a request for an on-camera interview.
McDurmon, who heard about the incident through the news media, said that even if the child was defending himself from getting picked on, all kids that age must know they can't resort to weapons.
"I put the responsibility on parents," he said. "My kids have been bullied before, and I just told them you have to stand up."
The child is currently behind held a juvenile assessment center in Polk County.