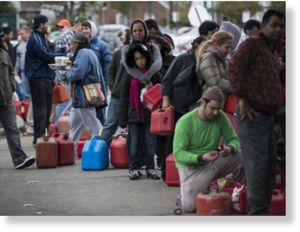 Power outages at hundreds of gas stations and a distribution bottleneck due to flooding damage and power loss has caused a gasoline shortage in the New York metropolitan area that may not be cleared up for at least a week, according to industry experts.
What was a problem for drivers when Super Storm Sandy ended two days ago has become a nightmare for frazzled motorists who find themselves in gas lines that can stretch on for hours. Some lines were hundreds of cars long in sections of New Jersey and New York Thursday, and in a number of locations police monitored the lines which interfered with traffic flow in some areas.
The problem is not gasoline supplies, but the ability to distribute it, especially from the critical terminal area around Linden, N.J., which lost power and was hit by storm surge. An estimated 75 percent or more of the gas stations in New Jersey were closed either because they had no gasoline, no power or both, said Sal Risalvato, executive director of the N.J. Gasoline, Convenience, Automotive Association. His organization represents about 1,000 gasoline stations in N.J.
"What I'm seeing is there's a combination of problems. Power is at the root of it. That means gasoline that is already in inventory, already refined in those big tanks you see along the side of the turnpike, they can't get that gasoline into the delivery trucks without power," said Risalvato.
Those "white tanks" along the New Jersey turnpike are gasoline terminals, owned by a number of companies, and the question for the industry is how quickly can normal operations resume after power is restored. A number of New Jersey based companies, like
NuStar
[NU 39.24 -0.06 (-0.15%) ]
and Shell's Motiva, reported that the storm surge drove water into the terminal areas, and it is unclear when they will be operational. One NuStar Energy executive estimated the marine terminals at his site could take four to six weeks to repair.
PSE&G
[PEG 31.14 -0.90 (-2.81%) ]
, which powers that critical region, expects its substation to be back in working order and have electricity running to the critical chokepoint area by Saturday.
"We are focused on the major refineries area in Woodbridge, Linden, Elizabeth part of New Jersey. We expect to have the substations back by late tomorrow/Saturday, so what that means is power will be restored to that region," said PSE&G CEO Ralph Izzo on "Fast Money Half-Time Report."
"Now if there's a specific set of circumstances to a particular customer in that region that will push it out further, but that region will be able to receive power Saturday," he said.
Izzo said PSE&G has a list of critical locations that are a top priority. That includes hospitals but also refineries. Izzo said residential customers, which could include gas stations, should have power by the middle of next week at the latest. There are still about 780,000 PSE&G customers without power, and other utilities also serve New Jersey.
The refineries that remain out of commission, especially the giant gasoline-producing Phillips 66 Bayway refinery, are not at the root of the current supply shortage. It is mainly the result of trucks not able to pick up deliveries or make deliveries.
"I feel like Linden is still quite the mess," said Andrew Lipow, president of Lipow Oil Associates. He said the energy operations in that area are responsible for about three-quarters of the fuel consumed in the New York metropolitan area. "There's really no amount of catch up that the system can do with all of the Jersey terminals shut down."
There has been some progress. The Colonial Pipeline - which brings gasoline from the Gulf Coast to the Northeast - was hoping to resume partial operations Friday. Also, the U.S. Coast Guard Thursday said it was opening the Port of New York and New Jersey on a restricted basis to get gasoline and fuel into the area.

"My estimate is it will be seven to 10 days," before the situation normalizes. "It's going to be tough. Stay home. Conserve your gas," Lipow said.
The condition of the terminals in New Jersey and also Brooklyn and Queens in New York is still undetermined. Shell said the New Jersey terminals operated by its Motiva partnership suffered wind and water damage and are still being inspected. There is no determined time for reopening. Two of four tanks in Sewaren, N.J. leaked an estimated 6,600 barrels of diesel fuel, with some spilling into the Woodbridge Creek, before it was stopped. The company set up booms and was able to divert the flow into a containment area.
"I think you're going to see some easement over the weekend," said Risalvato. "You'll see normalcy next week...You'll see things are going to happen all at once. Power is going to be restored. Roads are going to be clear. It's like you're drain is clogged and all of a sudden it's unclogged."
Shell said as of this morning, 47 percent of its New Jersey gasoline stations were open, while 62 percent were open in New York. In Connecticut and Pennsylvania, more than 80 percent of its stations were open.
Shell said it is coordinating with other suppliers to develop additional product sources and moving product to supply points closest to the impacted areas.
Some New Jersey gas stations were limiting purchases to $20 and $30 and requiring cash, but Risalvato said those gas stations cannot raise their prices by more than 10 percent above pre-Sandy prices under state law due to the current state of emergency.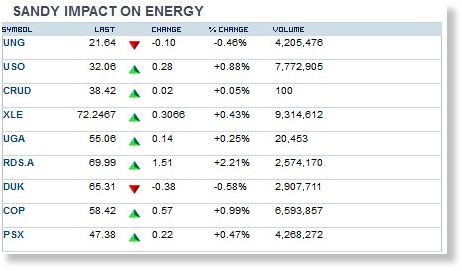 Still, this is little comfort for drivers waiting in line who know the tank farms line the turnpike, but their local stations are unable to open.
"In the scheme of things, because there is a plentiful supply somewhere, it's not a shortage of supply and because it's not being consumed right now, that can put downward pressure on prices," Risalvato said. "If this was a case where the product wasn't there, it would put extreme upward pressures on the price."
"It's just a game they play," said one unhappy man, waiting Thursday at the Vince Lombardi service station on the New Jersey Turnpike. "There's no reason for this we have so much gas down the street...Elizabeth, there's no reason we can't have gas."
Charlie Zussman didn't realize he was going to be waiting so long when he got into line at the Ridgefield, N.J. service area. "We did some of our errands around town, had enough gas. Took care of business. And thought we'd fill up for the duration. And here we are stuck in line," he said.
Others had no choice but to get fuel. Dale Dermer was doing recovery work in flood-plagued Hoboken, and needed fuel. "We have to take the diesel over for the big vac units that we have. It's just a nightmare over there. It's a nightmare everywhere," he said.
The increased use of home generators, powered by gasoline or diesel, has added to the post-storm demand for gasoline. So besides the drivers, gas stations saw long lines of customers on foot, lugging bright red gas cans.
CNBC's Mary Thompson and Kate Kelly contributed to this story