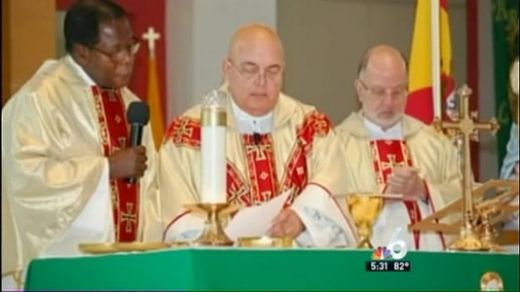 The Archdiocese of Miami said on Wednesday that Father Rolando Garcia was placed on leave after they learned that he had been accused of sexually abusing a 16-year-old runaway boy.
In a
press conference on Tuesday
, Tony Simmons recalled that Garcia began abusing him in 1994 at the Church of the Little Flower in Hollywood. Simmons said that the Catholic priest first offered him food and counseling. Over time, Garcia plied him with movies, concerts, alcohol and pornography, which eventually led to "oral sex and sodomy."
Simmons explained that he was afraid to speak out because he lived and worked as a painter at the church.
"I honestly thought I was the only person," he told reporters. "And if it came out, I could lose my job."
Garcia continued to stay in contact with Simmons even after he joined the military in 2003. But on Oct. 15, Simmons said he
changed his mind
about coming forward when Garcia laughed while telling him that others had also accused him of pedophilia.
In the lawsuit, Simmons alleged that the archdiocese knew about the abuse of him and other victims. He is asking for over $5 million in compensation.
Attorney Jeff Herman, who represents Simmons, has filed three other lawsuits against Garcia in the past 7 years, two of which were settled out of court. Garcia was temporarily placed on leave due to a third lawsuit, but he was reinstated after passing a lie detector test.
St. Agatha Catholic Church, where Garcia was currently serving as pastor, referred all questions to the archdiocesan communications office.
"The Archdiocese will offer counseling to the alleged victim and conduct an investigation following procedures outlined in 'Protecting God's Children' [policy]," the communications office said in a statement.

Comment: If the church was really concerned about the victims they would clean house of all the pedophiles and perverts who have been molesting children for centuries and turn them over for prosecution.


Watch this video from NBC Miami, broadcast Oct. 24, 2012.