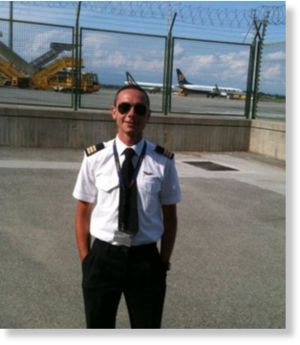 A man who posed as a pilot and joined cabin crew in a plane cockpit has been arrested, Italian police said today.
The unemployed 32-year-old man, whose real identity was not released, created a fake profile for himself on Facebook and called himself Andrea Sirlo, even posting pictures of himself wearing a uniform and Aviator sunglasses.
To complete the illusion he made up fake identity cards and even sent himself imaginary comments from dozens of fake cabin crew friends who expressed their 'delight' at being rostered with him on flights.
Police held the man in the bar at Turin's Caselle airport and revealed details of the elaborate scam at a press conference - as they compared it to the hit Leonardo Di Caprio film
Catch Me If You Can
in which he posed as a fake pilot and con man who flew more than one million miles around the world in the 1960s.
Officers said they believed he had flown in the cockpit of at least one flight between Munich and Turin in October last year and a link on his Facebook page highlighted the trip on a low budget airline called Air Dolomiti but did not take command of the plane.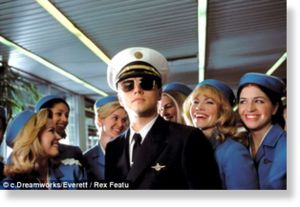 They had been tipped off about him by an Italian Civil Aviation Authority who had become suspicious at how he could claim to be a captain when he appeared to be so young.
After he was arrested he took police to the garage of his home in Turin where he showed them the fake uniforms including white shirts and gold epaulets plus bogus identity cards, two books on flight theory and a plane log book.
Other pictures on his Facebook page showed him posing on an airport tarmac with planes behind him and in another he was seen inside the cockpit of a plane although it was not clear when and where it had been taken.
The site has now been closed by police but a person using the same identity and pictures also had a Twitter account in which he described himself as first officer for Lufthansa City Line.
Police said they believed he had taken another flight in April of this year as well but added they were still investigating the background of the man who they said was known to them and had previous convictions for fraud.
A spokesman for Turin police said: 'We are investigating several breaches of airport security and the man has been questioned about his motive but has not really provided a clear explanation of why he pretended to be a pilot.'
Turin airport said they were also investigating the case but they had not issued any identities in the name of Andrea Sirlo - the surname is the name of an air corridor over Turin.