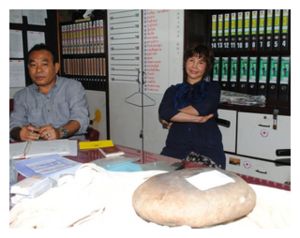 Bangkok - Police officers of Dindang police station arrested Mrs. Wonnt Lalita, age 50, nationality Cambodian, for claiming that she was representing Jesus, and opening an unlicensed medical clinic of massage therapy to cure general illnesses.
The self-proclaimed divine healer was arrested after a 22-year-old diabetic female patient died in her clinic on June 19. The patient was identified as "Ms. Mo"(alias).
Ms. Mo had just graduated with first-class honors from the Faculty of Education, department of Early Childhood Education and majoring in Elementary Education. She was supposed to have attended her graduation ceremony in July.
After the patient died, her father filed a complaint with Mrs. Chanthana Jindathawornkit, the director of the law office of the Department of Health Service Support in the Ministry of Public Health.
The patient's father, Mr. Paiboon (surname withheld), age 51, said that his daughter came to have therapy at Mrs. Wonnt's clinic for her diabetes. The one-room clinic was named Lalita Wongt Co. Ltd, and was in a 1-story business building, located on No. 22, Soi Choomchuen, Asoke, Dindang Road, Dindang, Dindang.
The outlaw doctor claimed she could cure people with her body massaging, and told his daughter to stop taking her diabetes pills. But stopping the pills caused her death, according to the health director Mrs. Chanthana, who co-operated with police officers to arrest the doctor.
Mr. Chaiboon said his daughter had been diagnosed with diabetes since the age of 14. Then her mother's friend advised them to go to see Ms. Wonnt, because the doctor advertised herself as a Christian doctor, like the girl's family. Ms. Wonnt also had broadcasted about her therapy on YouTube, which convinced Mr. Chaiboon to let his daughter see her for diabetic treatment. Ms. Wonnt charged them 2,000 baht per hour.
The first time the Cambodian doctor treated the girl, she put Ms. Mo's foot on a big rock. Ms. Wonnt then used her foot to massage his daughter's body. But in her last visit, Ms. Mo had difficulty breathing, but the doctor said that God was "re-organizing her bones." The doctor did not let Ms. Mo take her diabetes pills, and instead told Ms.Mo to sleep at the clinic, where she later died.
The forensic doctor identified the cause of death as a heart attack. In the deceased patient's stomach, about 50 ml of an unknown brown substance was also discovered. After his daughter's death, Mr. Paiboon did some further checking, and found the Khmer native was an illegal doctor, so he filed a complaint with the Health Ministry to arrest her.
Police said the accused faith healer claimed that she has been blessed from Jesus to have holy power through massage to cure illnesses, so she had many clients, including a lot of celebrities. One of the TV channels came to tape her demonstrating a variety of her treatment methods, which included massage, and putting her feet on a stone that was heated in hot cinders before stepping on patients' bodies. Her other methods included telling the clients to lay on hot stones.
Ms. Wonnt also used "tendon-softening" cream, and "detoxing" massage cream on her patients, products that were not licensed from the minister of Public Health.
After her arrest, the suspect admitted that she using such treatments, so police charged her for treating people without a medical license.