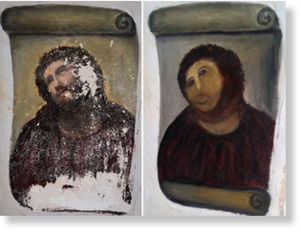 The 81-year old amateur artist, who botched the restoration of a 19th century Spanish fresco of Jesus known as
Ecce Homo
, says she wants to be paid for her work.
­According to Spanish website elcorreo.com, Celia Gimenez has demanded royalties after her local church decided to charge visitors to see what has become of the
Ecce Homo
.
Some ironically remarked that
Cecilia's fresco
actually showed the world what Jesus has evolved from... a monkey. Others humourlessly noted the woman behind the amateur restoration needed a visit from the Grand Inquisitor.
The masterpiece by painter Elias Garcia Martinez had been in the Sanctuary of Mercy church in city of Zaragoza for over a century.
When the pensioner's disastrous restoration became public, it made headlines across the world. Admirers of her 'daredevil'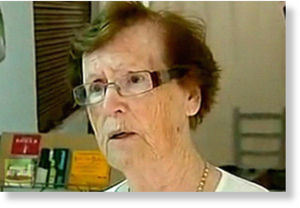 work have even launched a Facebook fan page. Hordes of tourists began queuing up to see the famous fresco in the flesh for €4.
"She just wants the church to conform to the law," Enrique Trebolle, the lawyer hired by Gimenez, told
The Guardian
. "If this means economic compensation she wants it to be for charitable purposes."
The revamped
Ecce Homo
was reportedly discovered after the painter's granddaughter made a donation to the Spanish Centro de Estudios Borjanos in Borja. The employees were shocked when they came to check on the mural to find it horribly altered.