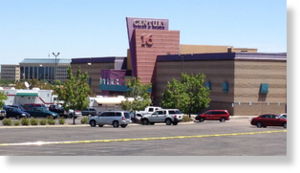 Denver - Three Colorado moviegoers who were hurt when a gunman opened fire in a crowded theater in July sued the owners of the theater, Cinemark USA, on Friday accusing it of failing to provide adequate security, their lawyers said.
The action marks the first known civil lawsuits filed over the July 20 shooting at a suburban Denver screening of the Batman movie
The Dark Knight Rises
that killed 12 people and wounded 58 others.
James Holmes, a former neuroscience graduate student at the University of Colorado, has been charged with murder and attempted murder in the case.
"Readily available security procedures, security equipment and security personnel would likely have prevented or deterred the gunman from accomplishing his planned assault on the theater's patrons," the law firm of Keating, Wagner, Polidori and Free said in a statement.
Representatives of Cinemark could not immediately be reached for comment on the suits.
Prosecutors have depicted Holmes as a young man whose once promising academic career was in tatters as he failed graduate school exams in June and one of his professors suggested he may not have been a good fit for his competitive Ph.D. program.
They have said that Holmes lost his access to the University of Colorado Anschutz Medical Campus after making unspecified threats to a professor on June 12, after which he began a voluntary withdrawal from his program.
They said Holmes began "a detailed and complex plan" to commit murder and obtain an arsenal of guns and protective armor after he was denied access to campus facilities.
On the day of the shooting, Holmes bought a ticket to the midnight screening, then left the theater through an exit door he propped open on his way out, prosecutors said. Holmes then put on a gas mask and ballistic protective gear before returning to the theater and spraying the crowd with gunfire.
Holmes' attorney Daniel King, who analysts said appeared to be laying the groundwork for a possible insanity defense, has said his client suffers from an unspecified mental illness and tried to get help before the shooting.
Source: Reuters; Reporting by Keith Coffman