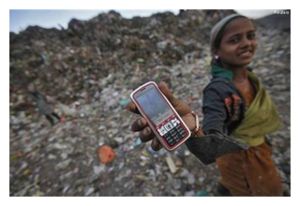 Jaipur - After girls in a village in Uttar Pradesh were banned from using mobile phones about a month ago, now a village
panchayat
in Rajasthan has prohibited minor girls from carrying mobiles and has directed them to cover their heads when going out of home.
The village council has also ordered minor boys not to play music on their mobile phones.
The restrictions have been imposed in Kishorpura village near Udaipurwati town of Jhunjhunu district, some 200 km from Jaipur.
"The panchayat recently held a general meeting in which village elders expressed the view that mobile phones were spoiling girls," Kishorpura sarpanch (council head) Bimla Meena said.
Following the meeting, the elders decided to impose a ban on the use of mobile phones by minor girls from the village.
"The minor girls have been asked not to use and carry mobile phones. They have also been directed to wear proper clothes. They will have to keep their heads covered with stole. It would make them look decent," Meena added.
The village head did not specify the punishment to be meted out to any girl found flouting the panchayat's edicts.
Most of the villagers were, however, in agreement with the panchayat order.
"It has been observed that mobile phones have given 'unnecessary' freedom to girls, which is distracting them from following our culture. The panchayat's decision will be followed strictly in the village as it has been accepted by all," said Ramkesh Kumar, a resident.
Earlier in July, the panchayat of Asara village in Uttar Pradesh's Baghpat district had issued similar orders, banning girls from using mobile phones and stepping out of their houses without male escort.