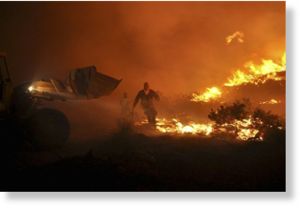 In response to Greece's financial crisis, villagers on the eastern island of Chios carried on with what their ancestors had been profitably doing for centuries: patiently carving lines on mastic trees.
But much of the island's trademark mastic gum industry went up in scented smoke over the past week when a wildfire ravaged the world's only mastic tree plantations during the heart of the harvest season.
As firefighters on Friday put out the last flare-ups from the six-day blaze, farmers said
up to a quarter of the island's mastic groves have been wiped out
.
In cash terms, producers stand to lose up to €3 million ($3.75 million) a year, because after replanting, it takes up to a decade before producers can start tapping the trees for their aromatic gum.
"Imagine that a farmer who produces mastic will now lose this economic benefit ... for the next 8 years," said Giannis Stoupakis, who recently opened a local factory to produce export-quality, mastic-flavored alcoholic drinks.
With its distinctive flavor, the gum-like resin - believed to have served in ancient times as an early form of chewing gum that was prized for its medicinal properties - is only produced by trees in certain parts of southern Chios that favor the trees' slow growth. More than half the crop is exported for use in confectionery, cooking and cosmetics.
The huge blaze began on Aug. 18, and authorities estimate that
it destroyed at least 15,000 hectares (37,000 acres) of vegetation
. The island's famed mediaeval fortified villages were unscathed.
"The damage is big, which economically will be felt in the whole island of Chios, in all domains, it will affect everything," mastic farmer Giannis Kapetanos said as he surveyed a charred grove.
In the southern village of Pirgi, set among rolling hills once covered by tens of thousands of mastic trees that provided a quarter of the island's gum output, farmers say up to 45 percent of their trees have been lost.
Entire communities are involved in the industry. Workers rise before dawn to cut incisions in the trunks that release long tears of resin. That congeals in tiny clumps on the ground, and is painstakingly gathered and cleaned before being sent for processing.
"Chios as a regional district does not have many economic pillars," said Eythimis Moniaros, head of the union of Chios mastic producers. "One of those few was mastic."
He said the fire would also harm Greece's recession-mired economy, as mastic is one of the few net exports in a country that still imports much more than it sells abroad.
"Our products to a large extent, more than 70 percent, are intended for export," Moniaros said.
The government has asked Greece's secret service to help investigate the cause of the Chios blaze, saying there are strong suspicions arson was involved.
Forest fires are common during Greece's long hot summers, but the country has seen hundreds of blazes in recent weeks following a heat wave. In 2007, about 70 people died in huge blazes that swept through central and southern Greece.
Source: The Associated Press