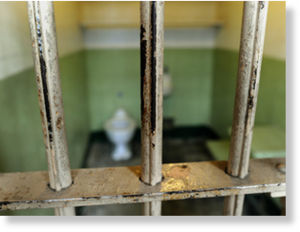 A federal magistrate ordered Daniel Larsen to be released from prison in 2010. Two years after the court agreed that he had been denied the right to a fair trial, though, the 45-year-old man remains behind bars in California.
Larsen was sentenced to 27-years-to-life after being found guilty of possession of a concealed weapon in 1999. A repeat offender, California's three-strikes rule mandated a harsh sentence for Larsen, despite his conviction coming from a trial that has been debated ever since. After a decade in prison, two witnesses contested the original police claims that had convicted Larsen, in turn causing the court to demand a release.
More than two years after the fact, Larsen remains locked up.
"It's reflexive, it's just what they do," Larsen's attorney Jan Stiglitz tells Southern California Public Radio. "They have never been willing to sit down and interview our witnesses."
Stiglitz says that during his client's original trial, his earlier attorneys were "constitutionally and practically deficient," and failed to bring forth witnesses that would have allowed Larsen to walk free. Because a federal habeas petition was not filled on time though, the California Office of the Attorney General is giving Larsen and his lawyer a hard time about allowing the court-mandated release.
Stiglitz says he expected the state to appeal the magistrate judge's order, but even still is appalled by the time his exonerated client continues to serve.
Others are now voicing their outrage and their numbers are practically unmatched. Larsen managed to get the backing of tens of thousands who have signed their name to a petition that demands his immediate release. Larsen's fiancée, Christina Combs, delivered the petition along with the California Innocence Project on Monday complete with over 90,000 signatures. She says she hopes she will soon be side-to-side with her groom-to-be. In the meantime, she says that the petition is putting faith in the hearts of both of them.
"He's a believer now," Combs tells Southern California Public Radio. "With what's going on this week and over the past two weeks with the petition, he believes now. And he's coming home and he knows it."
"Daniel is my life...he was declared innocent over two years ago," she writes on the Change.org petition, which has grown to over 119,000 supporters in just a few days. "It's time for the Happily Ever After we deserve!"
The California Innocence Project claims that the Larsen's inability to prove his innocence on time yields a technicality that could, in theory, keep him in prison for life. Meanwhile, it'll be at least another year before the appellate court makes a decision on his already-ordered release.
"He's living in legal limbo just waiting to be released," Christina Combs tells the
Los Angeles Times
.