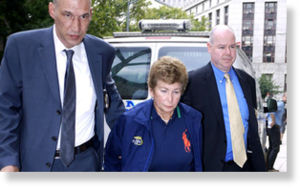 Lois Goodman, 70, who has served as a line judge for several years at tennis' U.S. Open, was arrested in New York on Tuesday in connection with the alleged April 17 beating death of her husband at their Woodland Hills home. Goodman was in New York preparing for this year's U.S. Open, which begins there next week.
She initially told police that her husband, Alan Goodman, 80, had fallen down the steps, had a heart attack and managed to get back upstairs to his bed, but prosecutors said Tuesday that they believe otherwise.
"She bludgeoned him to death with a coffee mug," said Jane Robison, a district attorney's spokeswoman.
"It was a homicide. He had multiple sharp-force injuries," said Ed Winter, assistant chief of investigations for the Los Angeles County coroner's office.
Lois Goodman was profiled in a
Times
article in 1994 and described herself as a lifelong tennis fan.
"It's exciting," Goodman said at the time. "This is my favorite sport and I'm out there rubbing shoulders with the best players. There's no real way to describe it."
But she mentioned that she often had trouble with male athletes on the tour.
"A lot of men players feel women should not be calling men's matches," Goodman said. "Jim Courier has made no secret about the fact that he doesn't like women umpires.
"He has said publicly that women should not call lines in men's matches. Well, right after he said that he got almost all women umpires in one of his matches and he noticed it and said, 'Look at all the lady umpires. This must be on my behalf.' That was fun."
Goodman goes on to talk about Stefan Edberg making a sarcastic gesture after she called him three times for foot faults.
"He turned to me and bowed a couple of times, waving his hands like, 'Thank you very much. I lost because of you,' " Goodman said. "You just have to laugh at things like that. We're just out there doing our job."
Goodman said she preferred calling women's matches.
"They are just gracious," she said. "With most women we never have any problems because they are more mature."
If convicted, Goodman could be sentenced to life in prison. It was not clear when she would be returned to Los Angeles. Prosecutors said they would ask for $1-million bail.