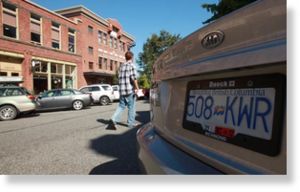 Canadians taking advantage of lower prices at U.S. stores cause merchants, shoppers to take sides.
The city of Burlington welcomes Canadian shoppers. It says so on Facebook.
The page hailing Canadians is Burlington's effort at damage control now that national attention has shone on another Facebook page that complains about overcrowding at Costco Wholesale and other big-box stores in nearby Bellingham.
A Bellingham resident posted the first page a month ago, calling for the local Costco to create special hours just for U.S. shoppers.
"The lines are crazy. The overcrowding is causing some to be rude," that page says.
Burlington's response: "We do not want our Canadian friends and neighbors to feel unwelcome in Northwest Washington," said city administrator Bryan Harrison, who said the welcome page was Mayor Steve Sexton's idea. "Some activities lately on Facebook have sent the wrong message that folks aren't welcome. Here in Burlington, you are welcome."
Higher prices in Canada have long driven that country's residents to head south for deals, a phenomenon that picked up in recent years as the value of the Canadian dollar reached parity with the U.S. dollar.
A Bank of Montreal report recently estimated that
Canadians spend more than $20 billion a year shopping in the United States.
The issue became more volatile earlier this year, when the Canadian government raised the duty-free limit for Canadians shopping in the states.
"Our membership was caught completely off guard," said Shafiq Jamal, the Retail Council of Canada's vice president for Western Canada.
Canadian retailers are also at a disadvantage because of years-old tariffs on imports, he said. And suppliers charge Canadian retailers more, arguing that that's what the market can bear and that distribution costs are higher in Canada.
The issue for some U.S. shoppers is crowding.
Georgiana Sorensen, a Costco member since 1991, stopped frequenting the Costco in Bellingham a couple years ago after watching two drivers with British Columbia plates lose their tempers over an open parking space.
"It scared the liver out of us, and we said, 'Let's get out of here,' " said Sorensen, who had not heard about the Facebook pages. She now shops 30 minutes south at the Costco in Burlington.
Other U.S. shoppers have learned when to avoid the crowds.
Getting in and out before noon works for Joan Baker of Whatcom County, a longtime Costco member who says special hours for Americans would be "ridiculous."
(A Costco official said the Bellingham store will increase its hours beginning Monday, but has no plans for special U.S. shopping hours.)
Canadian shoppers are "a boon not just to Whatcom County but to Costco, and it's a business that can hire more people and offer more products," Baker said. "They bring a lot of revenue into the county."
Small-business owners appreciate the Canadian shoppers, too.
Sarah Hutton, manager of Village Books and the gift shop Paper Dreams in Bellingham's historic Fairhaven district, increases staffing on Canadian holiday weekends - and relishes it.
"We look forward to those three-day weekends, because we know there are going to be a lot of people in the stores," Hutton said.
Bellingham Mayor Kelli Linville weighed in with a statement on the city's website: "The unpleasant comments we've seen on social media regarding Canadians are offensive and inappropriate, and do not represent the opinions of the vast majority of residents of Bellingham and Whatcom County."
Even the Facebook page titled "Bellingham Costco needs a special time just for Americans" recently scolded some commenters.
"Some of you Americans should be ashamed of yourselves with the really bad things you have said, along with you Canadians saying some way off topic very hatefull [sic] things. ... I just want a better quality of life for everyone, including our wonderful Canadians visiting our very beautiful city," a recent post said, adding that the page will soon disappear. "By the way, yes the title was offensive, it was meant to get your attention, but don't judge the book by its cover please."
The flap barely ruffled Jim and Elaine Methven of Vancouver, B.C., who recently filled a cart at the Bellingham Costco with a dozen gallons of milk - a sure sign that a shopper is Canadian, given particularly high dairy prices in their home country. They bring coolers in their cars, and the Methvens were taking back extra milk for the families of their grown children.
"It didn't bother me too much," Elaine Methven said. "It's like a sale when you come down here."