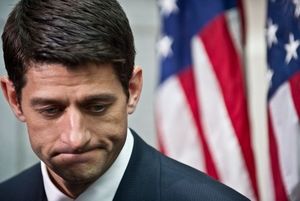 Mitt Romney
recently named
Wisconsin Congressman Paul Ryan as his running mate for Vice President of the United States. As such, the bright lights and prying eyes of the media have now befallen the congressman.
Video from 2011
has surfaced of several of his constituents being arrested for speaking out of turn at a public luncheon. In one instance, with video provided on the left side of this article, a 71-year-old man was
thrown to the ground
by police and placed in handcuffs. Moments after the incident Paul Ryan joked, "I hope he has taken his blood pressure medication."
Actually the man was
asking how he would be able to afford his medication
, but this nuanced difference seems to be lost on the millionaire congressman.
The incident took place September 2011 in
Klemmer's Banquet Hall
, located in
Milwaukee, Wisconsin
. Those who were admitted paid $15 each, but the congressman refused to take questions from anyone in the audience. Instead he opted to have anyone who asked a question to be removed from the vicinity. It has been detailed by
politicsusa.com
that Ryan had 5 people removed, and 3 arrested.
You may watch the more comprehensive footage, including protests outside the event,
here
.